In Mie and Tokyo, the history of Western Cuisine is being woven into the future. A pure spirit becomes the seed of joy.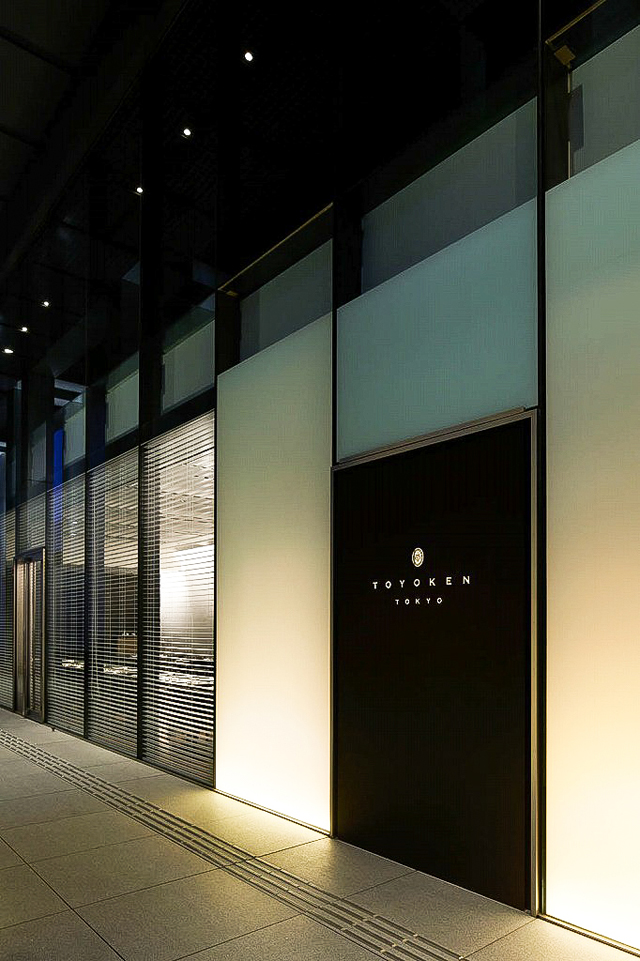 ▲Western Cuisine Restaurant, Toyoken, in the Akasaka area of Minato Ward, Tokyo photo courtesy of Toyoken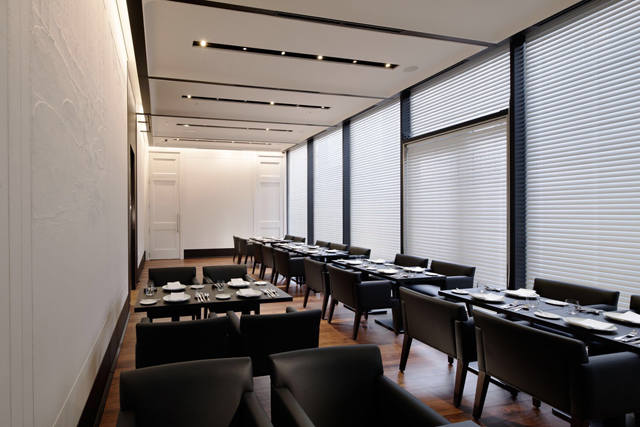 ▲Western Cuisine Restaurant, Toyoken, in the Akasaka area of Minato Ward, Tokyo photo courtesy of Toyoken
Listed in the Michelin Guide Bib Gourmand Tokyo, this Western Cuisine restaurant in the Akasaka area of Tokyo's Minato Ward has its original location in the city of Tsu, in Mie Prefecture.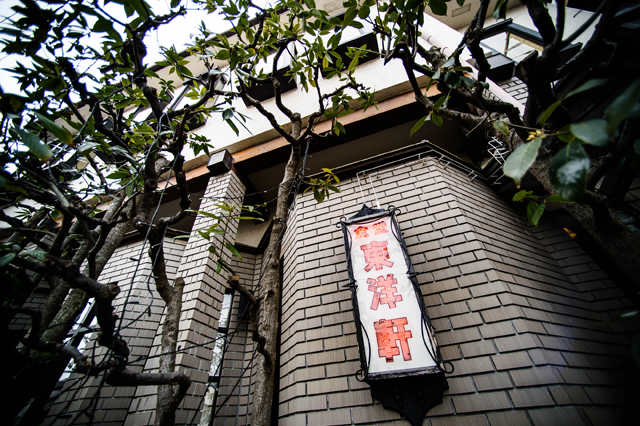 ▲The original location in Tsu Alt The original location in Tsu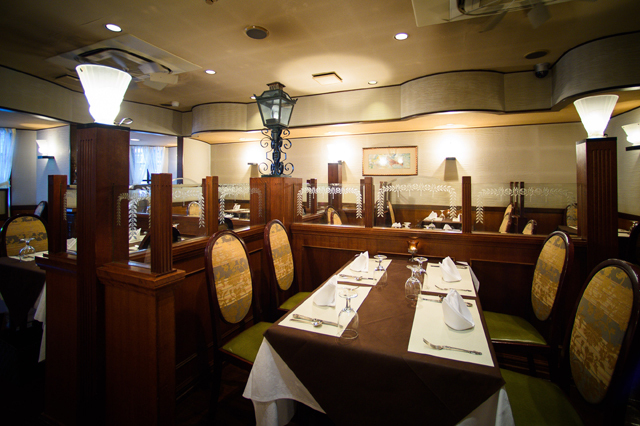 ▲The original location in Tsu
The former head of a bank and the so-called father of modern ceramics was deeply involved in the creation of the black curry that appears on this restaurant's menu board.
———In the East is Rosanjin, in the West is Handeishi. Me, I just spin my potters wheel.
The man with the deep connection to black curry is Handeishi Kawakita (1878~1963, real name Kyudayumasanori Kawakita). The 15th generation of a wealthy merchant family from Ise, he was raised in Tsu and, in 1919, became the head of the Hyakugo Bank. He also served on the Tsu city council and in the Mie prefectural legislature.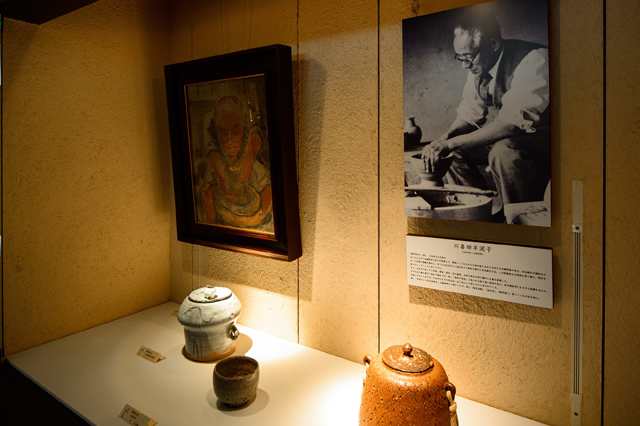 He wears a suit while turning his potting wheel in a portrait photo entitled "The Radiance of Showa", which makes quite an impression.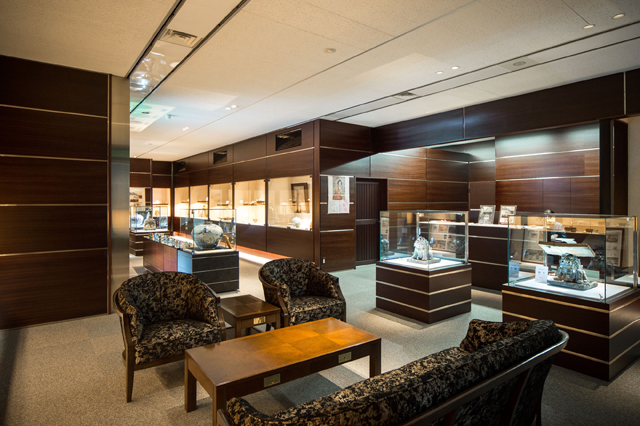 With a desire to learn more about who this Hanteishi person really was, I pay a visit to the Hanteishi Hironaga Kiln Gallery in Tsu. Director of the Hanteishi Hironaga Gallery, Mr. Satoru Murayama, shows me some of their works.
First, to more easily understand Handeishi the man, let's look at a guardian dog statue made by Handeishi.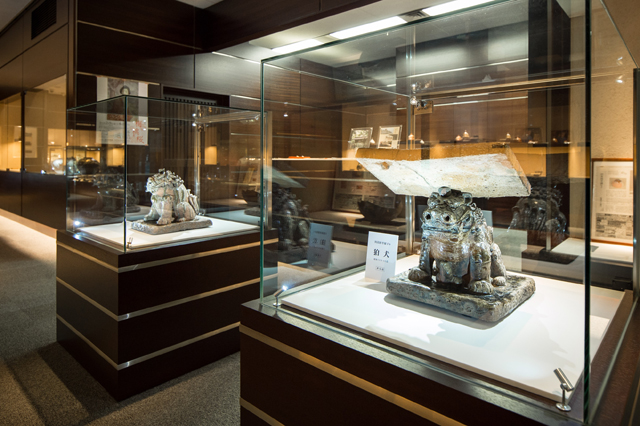 This piece is a guardian dog intended to be placed on the site of the kiln.
Normally the mouths of male guardian dogs are open, while the mouths of female guardian dogs are closed. Handeishi's guardian dogs, however, both have their mouths closed. When they were being fired in the kiln, a shelf fell on the head of the male guardian dog, so, when it was removed from the kiln, its mouth was closed. Handeishi thought it was quite amusing. It was even given a unique inscription.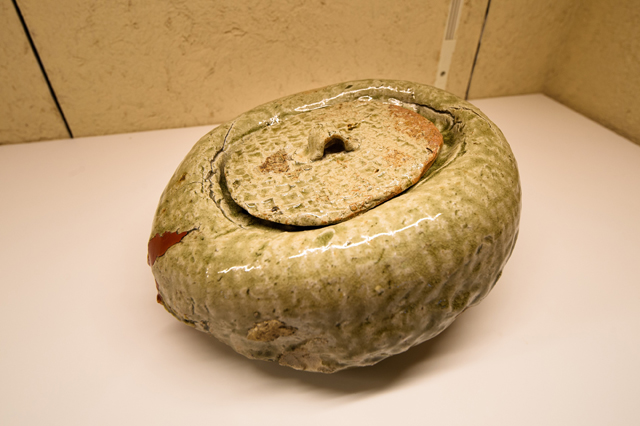 A ewer entitled Kanninbukuro.
The uniqueness and originality of the piece arises from the freedom of expression that is characteristic of modern art.
I ask Mr. Murayama to tell me more.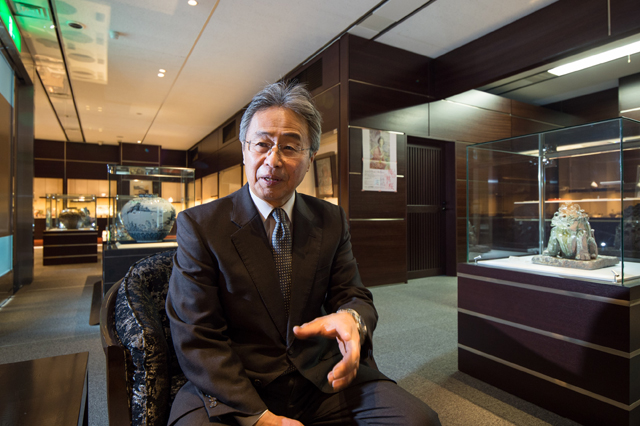 ▲Mr. Satoru Murayama of the Hanteishi Hironaga Kiln
"Handeishi was a personal student of the 11th generation master of the Omotesenke School of tea ceremony, Souya Hisada (1884-1946), from whom he learned about the world of tea. However, when it came time to drink tea, it seems he was a bit lackadaisical. He wasn't especially particular in learning the rules and movements of tea ceremony, and he didn't demand much of others either. He was that sort of person. Along with three other living national treasures, Miwa Kyuwa of Hagiyaki, Toyo Kaneshige of Bizen, and Toyozo Arakawa of Minoh, Handeishi founded a ceramics society called the "Karahinekai".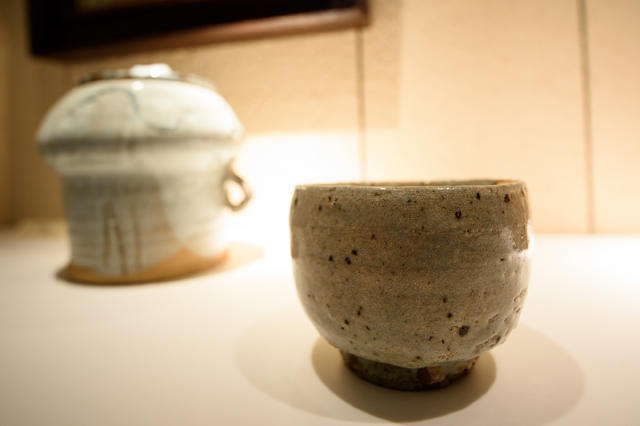 ▲For Hanteishi, uneven rims and slight cracks were part of his pieces.
For a hobbyist like Handeishi, the Karahinekai was a chance for him to learn pot throwing and kilning techniques from master ceramicists, while serving as a sort of spiritual guide for them.

"Me, I just spin my potters wheel." Handeishi said. At first glance, his style seems to be a bit haphazard, however he possessed a deep knowledge and understanding of both tea ceremony and ceramics upon which his original style is based.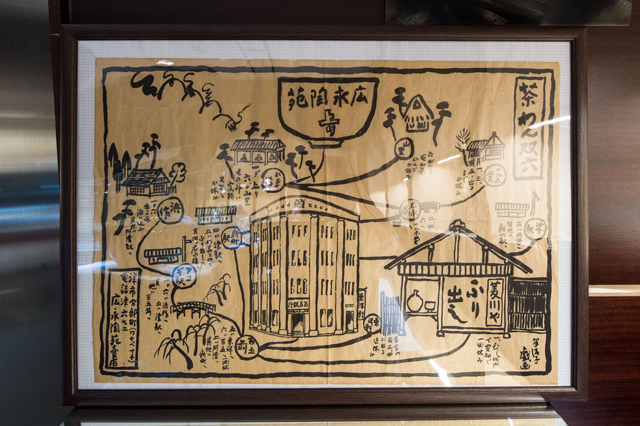 ▲A picture drawn by Handeishi. In the upper left is his house and kiln in Chitoseyama. On the building in the center is a sign for a western cuisine restaurant.
"Until the land was confiscated by GHQ, his house and kiln were in the Chitoseyama area of the city. When members of the Imperial family would stop by on their way to worship at Ise Shrine, instead of complicated dishes, he would serve them roasted sweet potatoes. Those roasted sweet potatoes were apparently quite highly praised."

My interest is piqued, I want to hear more and more about this Handeishi fellow.

"In the East is Rosanjin, in the West is Handeishi" it is said, but was he also well versed in food?

Mr. Murayama continues.
"Handeishi had a relationship with a certain tempura shop in Ginza which has played host to former American president Bill Clinton and other important people from around the world and which still represents Japan. Even now, that restaurant has a connection to the Hironaga Kiln. He was interested in food, but he very much enjoyed interacting with craftspeople. He was a playful and inquisitive person, and through these interactions he was able to come up with new things, I think."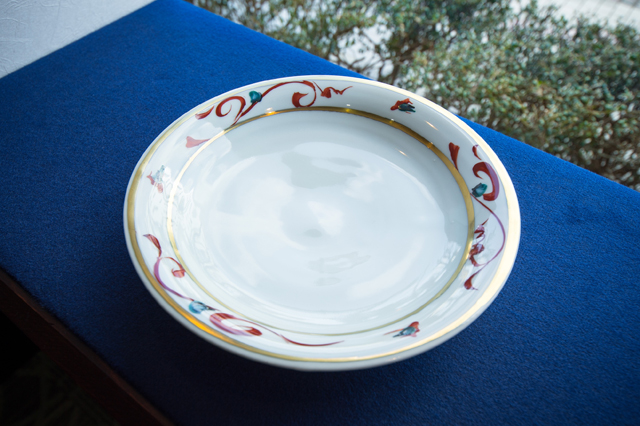 ▲A special plate for black curry recently made by the Hironaga Kiln at the request of Toyoken.
That playful and inquisitive spirit is purity, I think.
It is an important thing which, living in these busy modern times, we tend to forget.
I'll write more about it later, but it was this playful and inquisitive spirit that gave birth to the dish which represents Tsu, the famous black curry. Things that last are not the product of marketing, but perhaps they begin with a novel feeling of enjoyment. What's more, a sparkling spirit is required for these things to spread and flourish. Before we investigate the spirit that black curry celebrates however, I'd like to know a bit more about black curry.
———History and imagination interwoven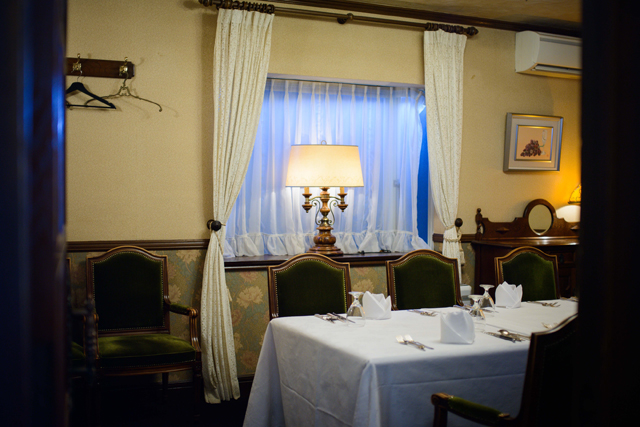 I visit the restaurant. This is the original location of Toyoken. If hearing the name Toyoken brings images of the Meiji period floating into your mind, that's proof that you know about food. While the black curry is cooking, this writer will ask the staff about something that has been on his mind.

What is the difference between western cuisine and yoshoku (Japanese western style food)?
A member of the staff explains it like so.
"In Japan, yoshoku makes up a large percentage of meals. Japanese cooks learned American and European "western cuisine", then set about altering it so it went better with rice, and this became the cooking style adored throughout Japan known as yoshoku. What many Japanese people don't realize is that yoshoku is actually a unique Japanese cuisine."

I see. The penny drops.
Croquettes, fried shrimp, and hamburg steak definitely all go well with rice. As I think about this, I start to get hungry…
At that moment, my black curry arrives. Perfect timing.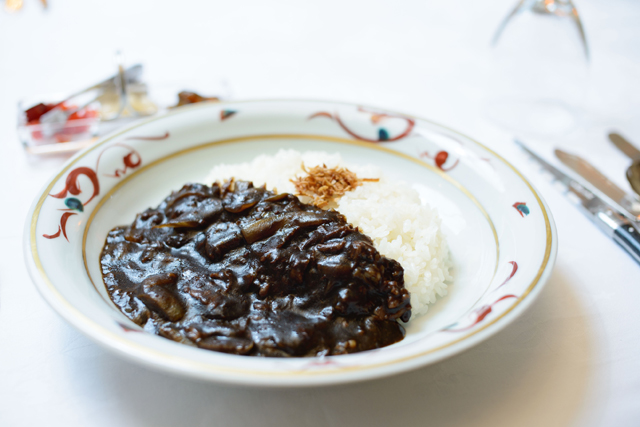 As I bring the curry to my lips, the flavor is different that the black color led me to imagine. It is deep and rich without being too strong. The aftertaste is clean, and it leaves an impression of a more mellow rounded flavor than normal curry.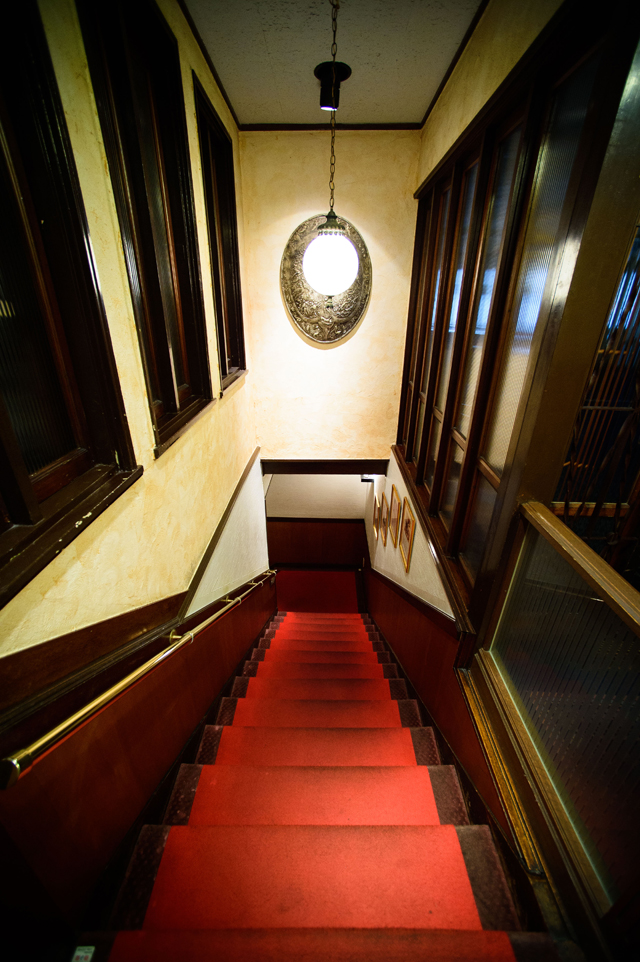 ▲The interesting interior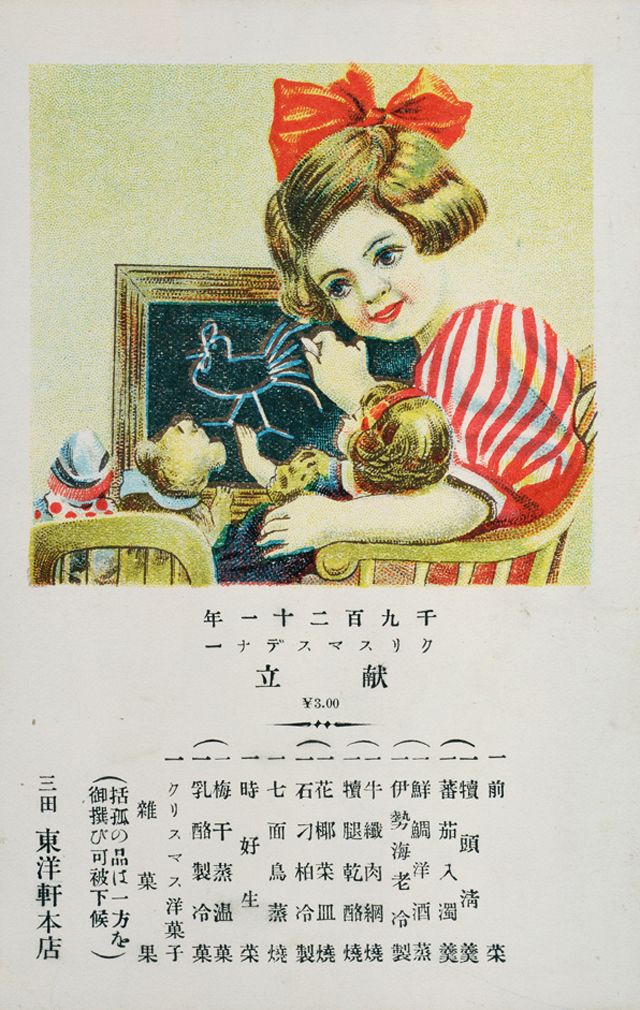 ▲A Christmas dinner menu from 1921 on display photo courtesy of Toyoken
The original Toyoken in Tsu was initially an extension of the Toyoken restaurant in the Mita Ward of Tokyo. It separated from that restaurant and began pioneering western cuisine in Japan.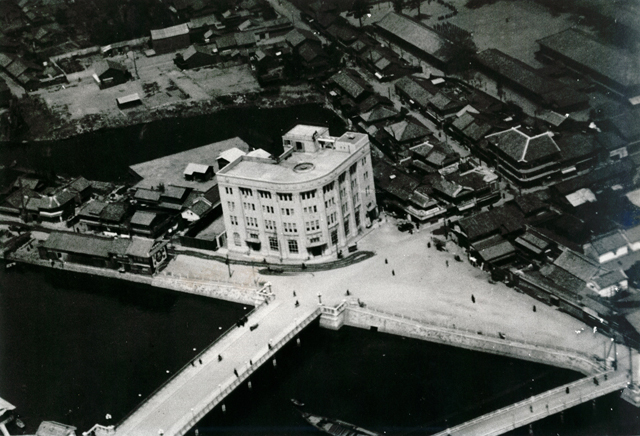 ▲The Hyakugo Bank Headquarters was the location of the Tokyo Toyoken extension Photo courtesy of Toyoken.
In 1928, it opened in the headquarters building of the Hyakugo Bank on Handeishi's invitation.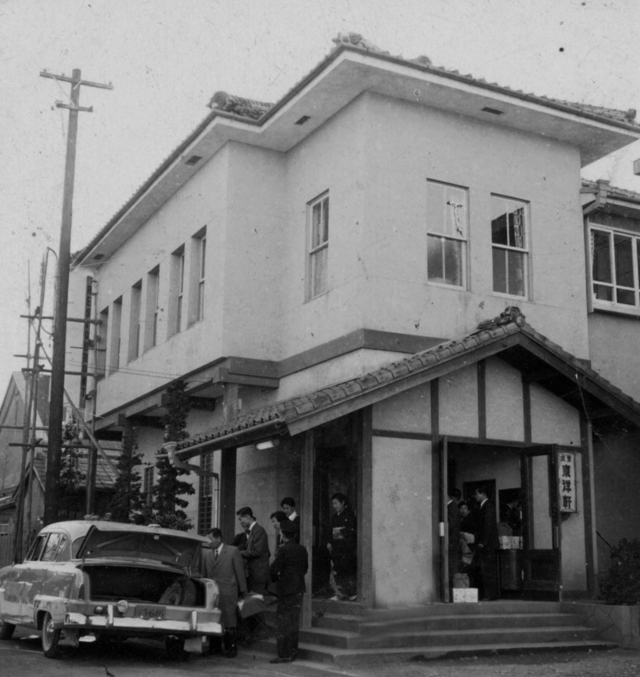 ▲Relocation building photo courtesy of Toyoken
After that, in 1955 the Iga Ueno Hyakugo Bank building, built in the Taisho era, was dismantled and moved to its present location to become the new home of Toyoken.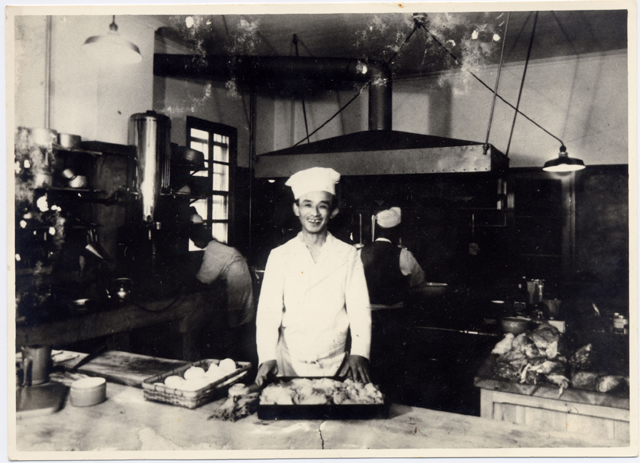 ▲The first head chef, Mr. Shigekatsu Inomata. Photo courtesy of Toyoken
Black curry was created when Handeishi asked the first head chef of the Tokyo Toyoken extension restaurant, Shigekatsu Inomata, to recreate a dark rich curry he had eaten in Tokyo. This curry had made quite an impression on Handeishi, and so, after many attempts, Inomata finally found success and black curry was born.

Today, black curry has taken flight from Tsu, and is now served at the Western Cuisine Toyoken restaurant in the Akasaka area of the Minato Ward in Tokyo.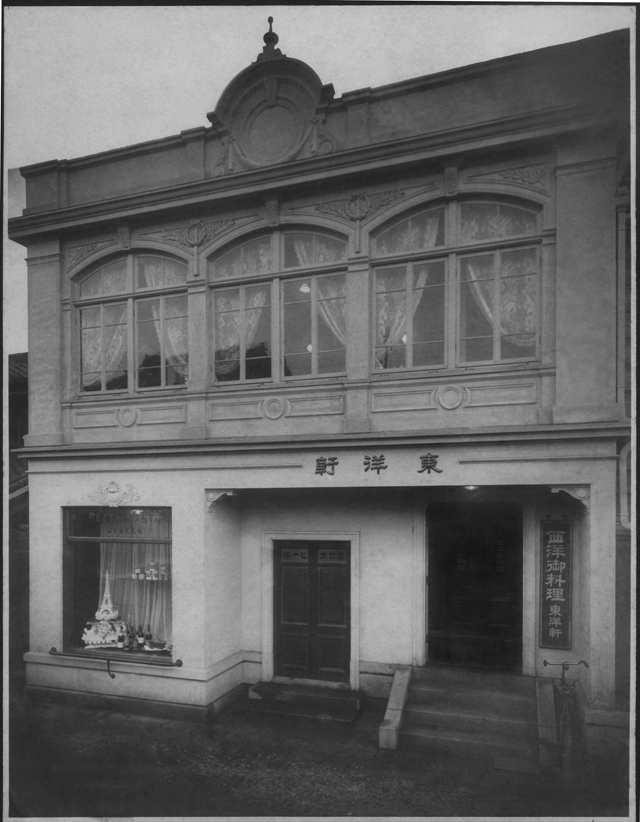 ▲Tokyo Mita Toyoken photo courtesy of Toyoken
Established in Tokyo's Mita area in the Meiji Period, the Tokyo Toyoken took the first steps on the path to creating yoshoku in Japan. Sadly, it closed many years ago, but, although separate from the Tokyo Toyoken, the Toyoken in Mie still carries on the traditions that began there.

I asked third generation chef Kenichi Inomata about Toyoken's so-called Tokyo homecoming.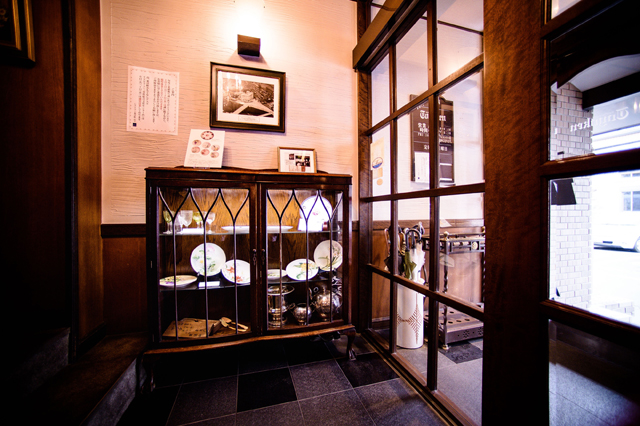 ▲Dishes passed down from the Tokyo Mita Toyoken on display in the foyer of Tsu Toyoken.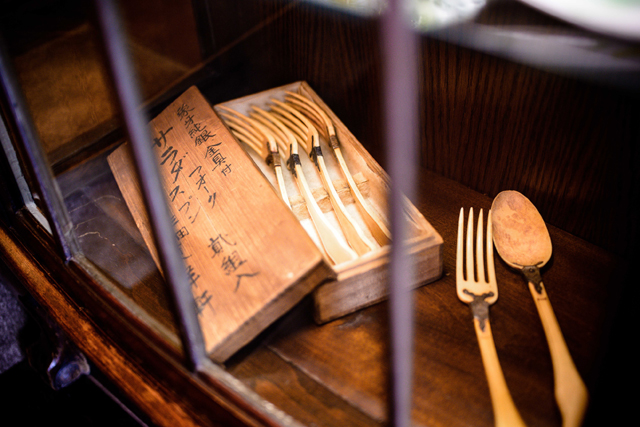 ▲An heirloom fork set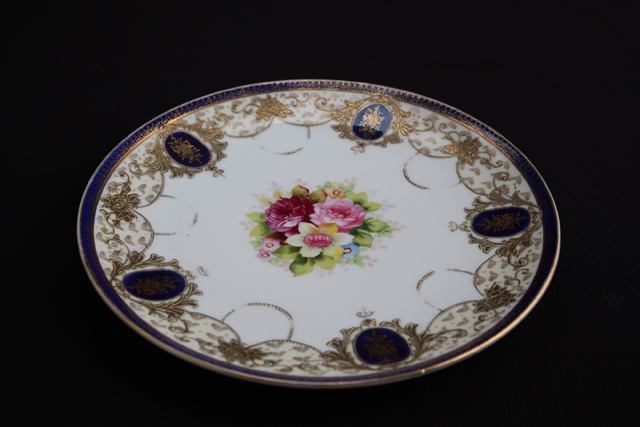 ▲Another heirloom, a ceremonial plate from the Imperial Parliament Hall, made by Noritake photo courtesy of Toyoken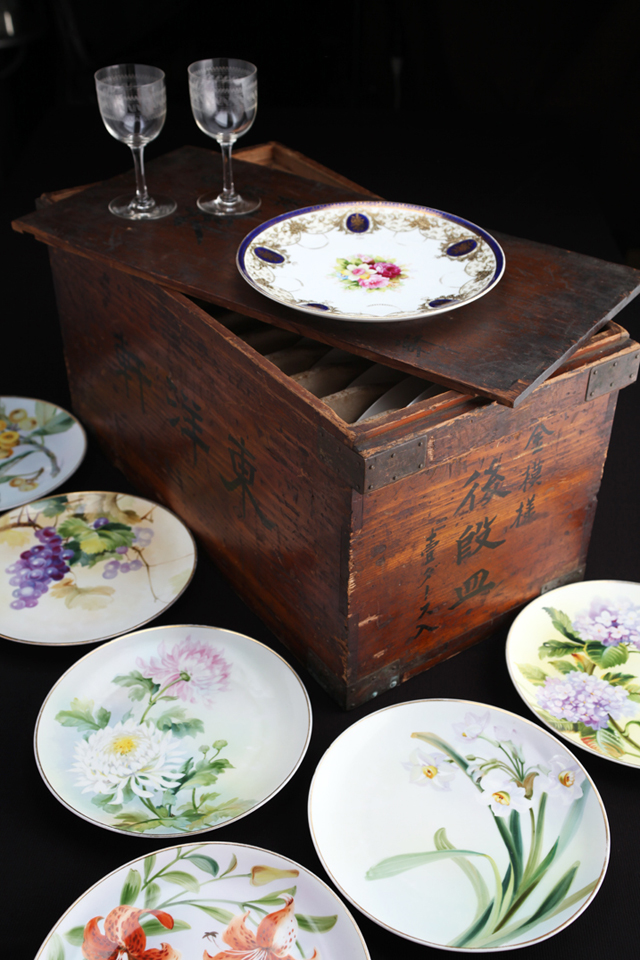 ▲A wooden box used for carrying dishes to dinner parties photo courtesy of Toyoken
"From the standpoint of the history of western cuisine in Japan, to be carrying the banner of Toyoken is a lot of pressure, but I am very happy to have this opportunity. While this banner in our charge, we will do our utmost to polish the reputation of Toyoken. Although long established, we don't want to be thought of as good simply because we are old. Rather, we strive to respond to changing times and tastes and will continue to do so on into the future. The current era is one of great change, so the struggle was great, but in 2014, in order to carry on Toyoken's traditions and to create the finest cuisine, we committed to bringing Toyoken home to Tokyo. We are very thankful to have been nurtured for 90 years in Mie, and to once again be able to be cared for by our customers in Tokyo. At our Tokyo location we do our very best to express the relationship between western cuisine and yoshoku, as well as to give peace of mind to customers by using domestically sourced ingredients as much as possible, and to review our cooking processes to ensure our dishes are healthy. In particular, we can feel our customer's joy at knowing that we use superb ingredients produced in our home, the delicious country of Mie."

Kenichi also tells me that, due to Toyoken's history, his Tokyo customers are spreading the word about Tsu.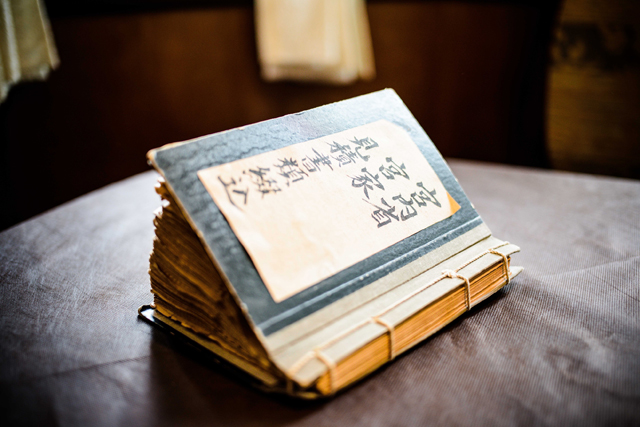 Sitting next to Kenichi is his younger brother and business manager, Yoshizou Inomata. He shows me an estimate book prepared by Toyoken in the Meiji Period for the Imperial Household Agency.

"The wine list is entirely Bordeaux. Do you know why there isn't any Bourgogne?" he asks me.

"In the Meiji Period, Japan and England had signed treaties of cooperation, and since Bordeaux had been under English control for 300 years (1154~1453), at Meiji Era dinner parties, only wines from Bordeaux were served."
———The Power of the Japanese People
Striving to catch up to and surpass the West, it was the era of the "Rich Country, Strong Army" slogan.
Dinner parties for important persons from foreign countries were frequently held.
The menus of these dinner parties were an opportunity to showcase the sophistication and refinement of Japanese culture. Chefs who had traveled from Japan to France and elsewhere to polish their skills often left the confines of their restaurants to share their techniques.
▲Tokyo Mita Toyoken's Kitchen photo courtesy of Toyoken.
With recommendations from Hirofumi Ito and other members of the Imperial Cabinet, the Tokyo Mita Toyoken, which was established as a western cuisine restaurant, served the Imperial Household Agency. Tokuzo Akiyama, the main character of the novel "The Emperor's Cook", (later made into a TV drama) was actually Toyoken's third head chef.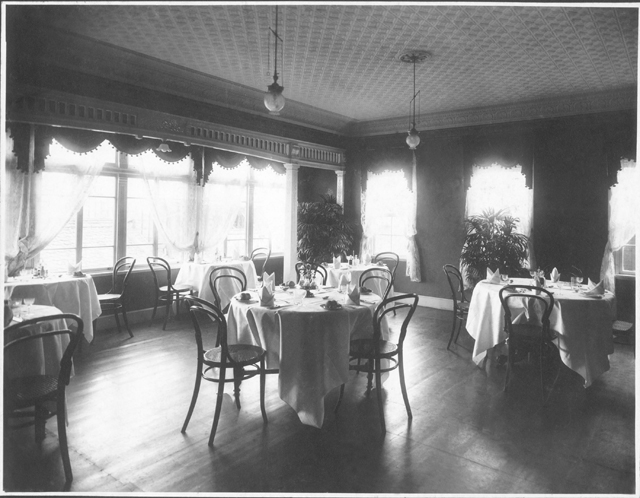 ▲The dining room of the Tokyo Mita Toyoken photo courtesy of Toyoken
As western cuisine spread, it became more difficult to acquire the ingredients used in the faraway west, so Japanese people began making western style dishes using domestic ingredients in place of western ones, and thus Japan's unique yoshoku came to be.

The island nation of Japan is well known for its particular skill at adapting many things, not just food, to suit its needs and tastes.
So that's it. Yoshoku is a feast fit for rice.
———Cuisine is a living thing
I also spoke with second generation and current master chef Shigenobu Inomata.
First, we talk about how black curry is made.
Black curry is turned from white to black.
Basically, flour and spices are roasted until they are nearly turned to charcoal. This process takes two or three weeks.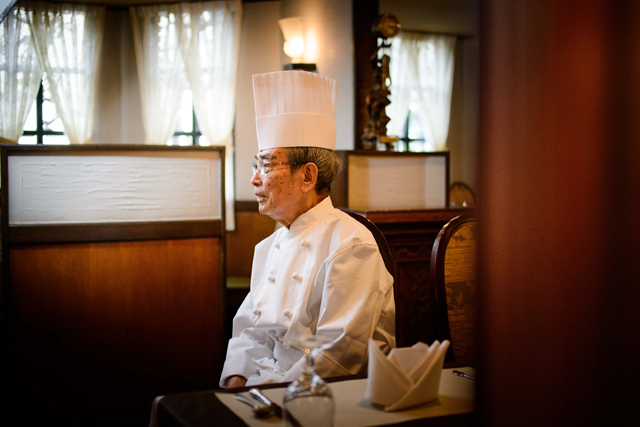 ▲Tsu Toyoken's 2nd generation Master Shigenobu Inomata
"If you get too hurried, the entire batch is ruined." Chef Inomata tells me.

By the way, does today's black curry taste the same as when is was created with the help of Handeishi?

"No. The black curry of that time was spicier, and it was only available to gourmet types as an unlisted menu item. I am constantly trying to improve and make it more delicious. Even now."

Entering the chef's world at the age of 24, you are now in your 57th year.
Chef Inomata, as a chef, where does your drive to study every day come from?

"From the previous generation. I was brought up to not slack off and to do the best work I could every day."

First generation chef Shigekatsu came from Tokyo and worked with Handeishi to create black curry ... second generation chef Shigenobu's research and study, and the determination of third generation chef Kenichi. With all these things whirling around in my head, I can't formulate any more questions. Shigenobu leaves me with these words.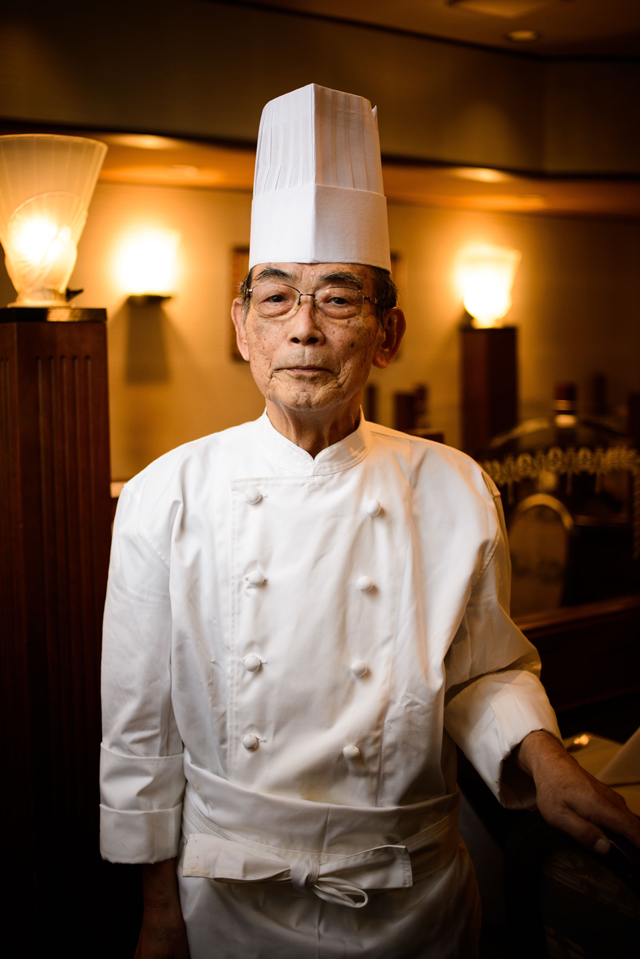 "Cuisine is a living thing."

The interview concluded, I have so many things to think about that my pen makes no progress. Among those thought a single theme connects them point by point.

"Born and raised in Japan."

There is power in unselfish study, day in and day out, to create and make something ever better.
There is power in taking something new and adapting it to suit one's current needs.
There is a power in the particular aesthetic of 'Purity' which brings joy to the heart.

Whatever the times may bring, I want to to live a life of zealous research wherein humility is not forgotten.
And to have a pure and playful spirit.
---
January 31, February 8, 2018
Produced for Web Magazine OTONAMIE
By Yusuke Murayama (OTONAMIE Representative)
With the Cooperation of:

Toyoken Corporation
Mie Ken Tsu Shi Marunouchi 29-17
Tel 059-225-2882
HP http://www.touyouken.co.jp
Facebook https://www.facebook.com/東洋軒-360054327681357/

Hanteishi Hironagakama
Mie Ken Tsu Shi Marunouchi 33-1
Tel 059-221-7120
HP http://www.chitose.co.jp/gallery/