Mie's dining table not only beautiful!
The words "Photogenic" and "Instagrammable" have come to be widely used, and I have become conscious when photographing food etc. with a smartphone.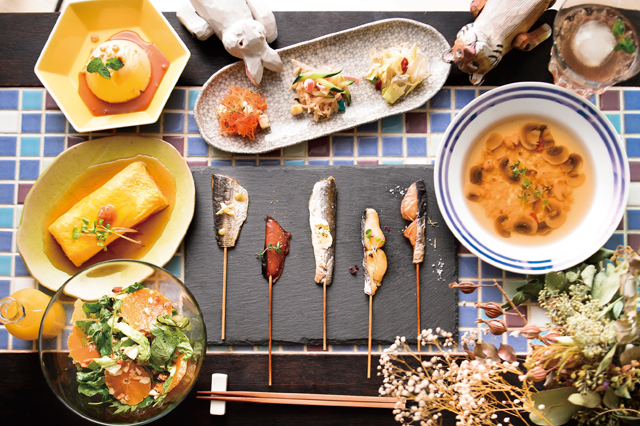 My girly friend is uploading beautiful homemade food to Instagram.
She told me that she uses local (Mie) 's selected materials abundantly.
———What does selected mean.
As a reporter and as a girl who admires her, this time I would like to find out the secrets of the material that she uses.
The ingredients of the dish this time are taken from those of the companies that have been selected for the "Mie Selection (Mie Prefecture)" which are special products recommended by the prefecture.
———Secret of material ①「Colorful and healthy fruit vinegar」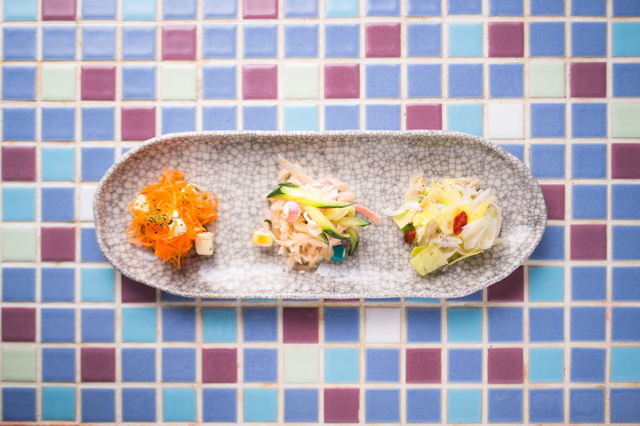 ▲Plate of vinegared dishes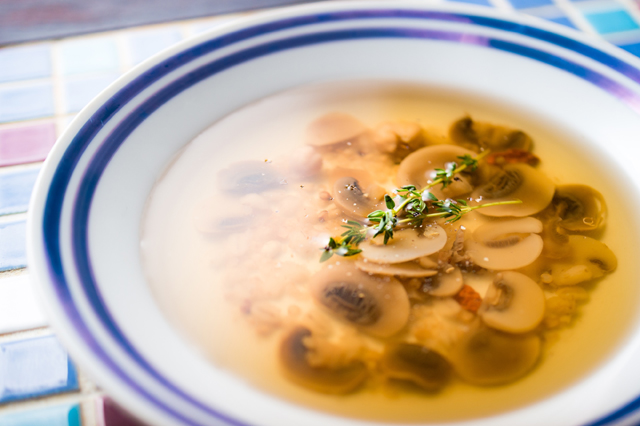 ▲Mushroom soup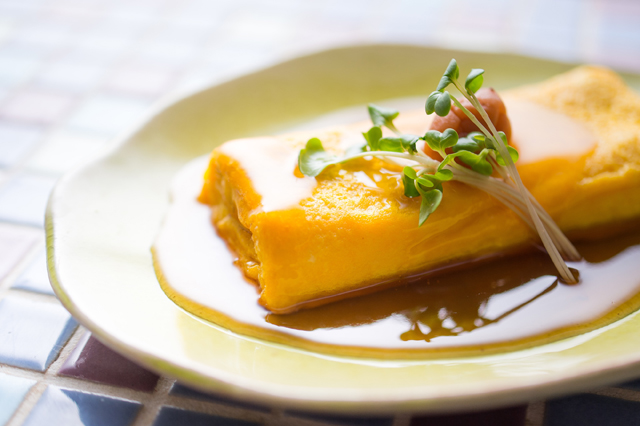 ▲Sweet and sour starchy dressed rolled Japanese-style omelette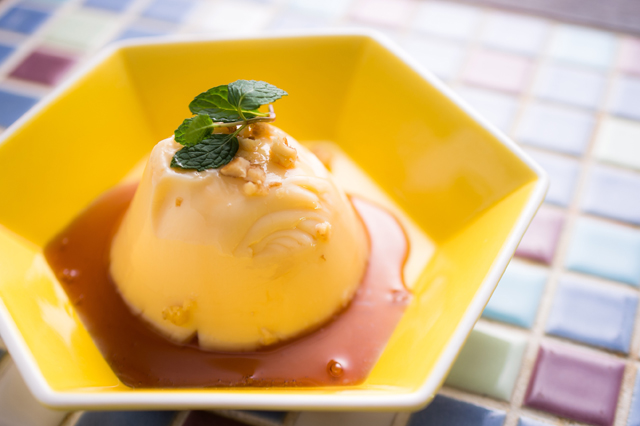 ▲Blueberry sauce soymilk pudding
First, I visited the brewing store of MIKURA Co., Ltd. in Mihama-cho, which is making vinegar syrup used for cooking.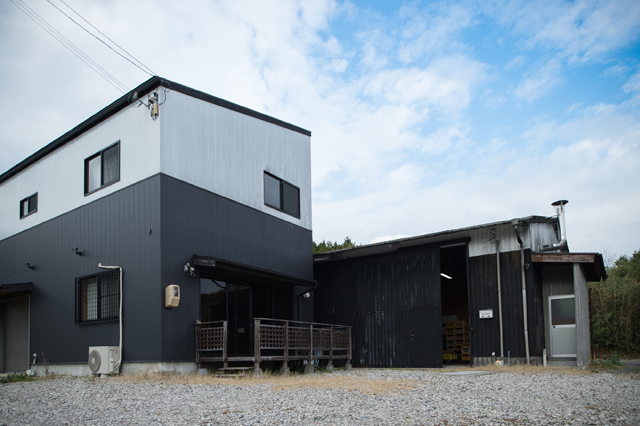 MIKURA mainly produces brown rice black vinegar "Shizuka" and sake lees red vinegar "Urumi".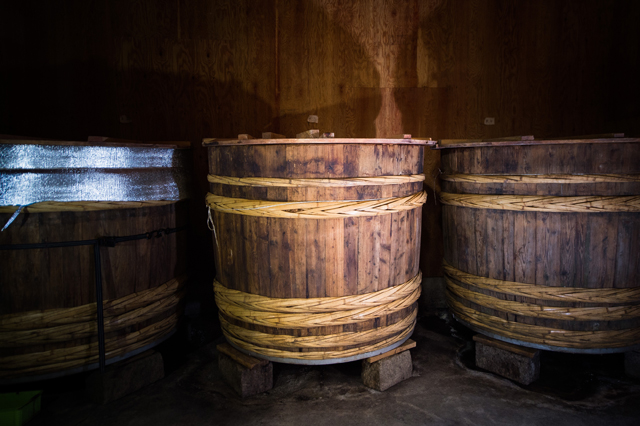 It using wooden bucket takes a long time, Shizuka takes 180 days, Urumi takes 40 days, to make vinegar with the recipe that is transmitted to this area.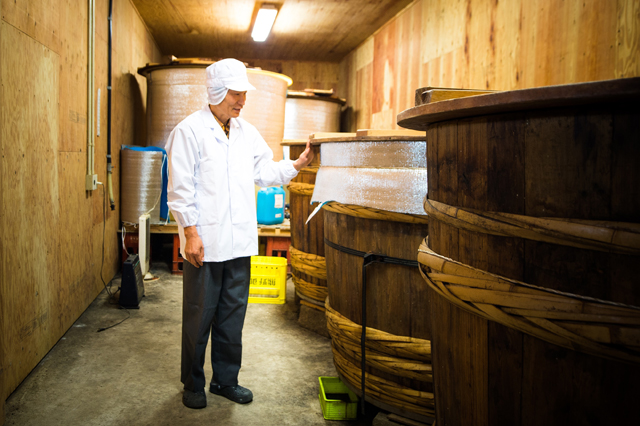 Mr. Fukui:We can make liquor from fruit and rice and can make vinegar from liquor. Vinegar will be water if left alone. Microorganisms act make changes like that. Among microorganisms, acetic acid bacteria mainly act to make vinegar. There are bacteria other than acetic acid bacteria in the wooden bucket and the atmosphere here, and the action of the bacteria makes it a deep and round taste. There is vinegar made only with acetic acid bacteria, but it becomes just normal sour seasoning.

I was able to taste it immediately. Huh? There is a taste!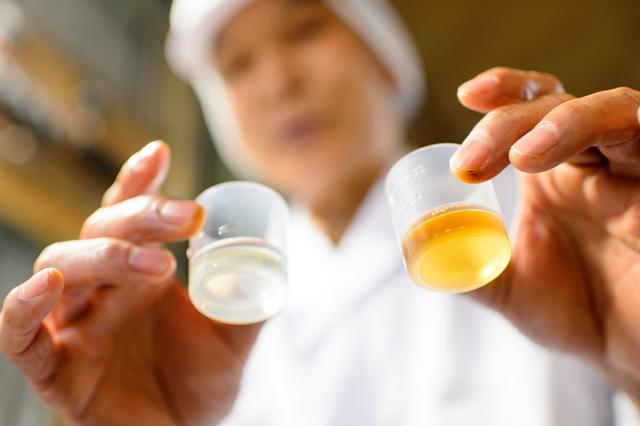 Mr. Fukui:For example, it's like white sugar and brown sugar. The vinegar here is as savory as brown sugar.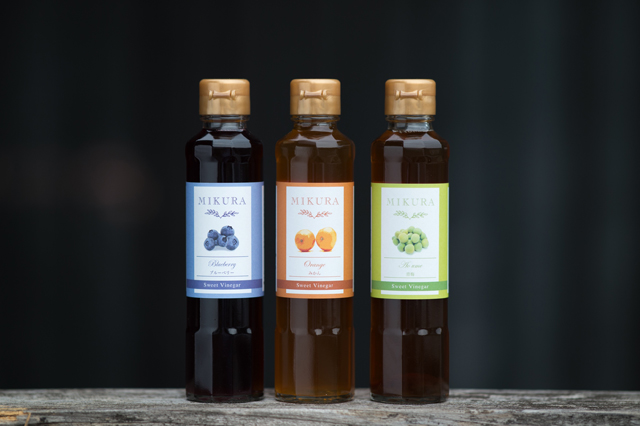 Knowing the vinegar, the next is vinegar syrup "Sweet Vinegar MIKURA" made from materials such as MIKURA's brewed vinegar (red vinegar, black vinegar) and fruits from Mie Prefecture that I focused on personally.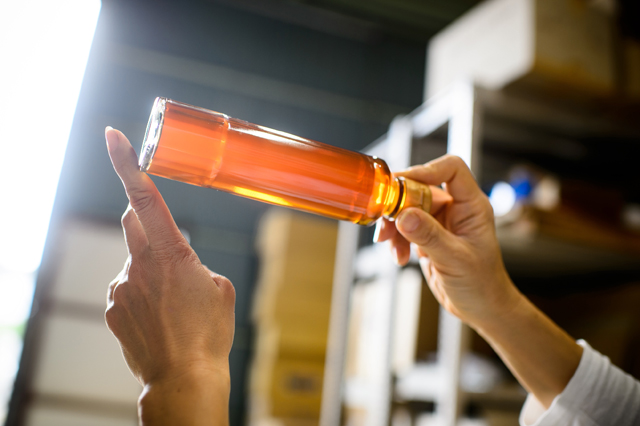 Vinegar syrup is also sold at department stores in urban areas and online shops and has recently expanded its sales channels.
We asked President Ito about the features of vinegar syrup here.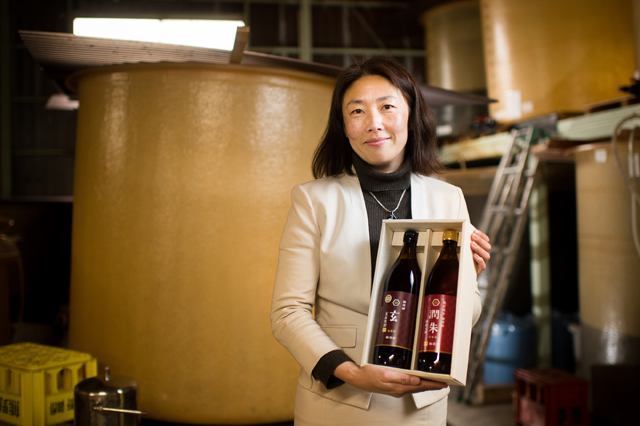 President Ito:Because the vinegar being used is brewed slowly and slowly over time, vinegar syrup remains firmly vinegar until the end.

It is not uncommon for a normal vinegar syrup to be just a sweet juice-like liquid after a long period of time and use, even though it has been unsealed and has a vinegar taste for a while. However, it is said that these products with little deterioration of taste and no additives at all have many health-conscious repeaters.
---
Mikura Vinegar Company MIKURA Co., Ltd.
Main store / brewing store: Atawa 2266, Mihama-cho, Minamimuro-gun, Mie
Management Headquarters: Unomori 1-Chome 12-16, Yokkaichi-shi, Mie
Tel 05979-3-1660
HP https://kumano-mikura.jp
Online store https://mikurasu.shop-pro.jp
---
———Secret of material ②「Citrus fruit that exists only in Kumano City, Mie Prefecture, the fruit juice of Niihime」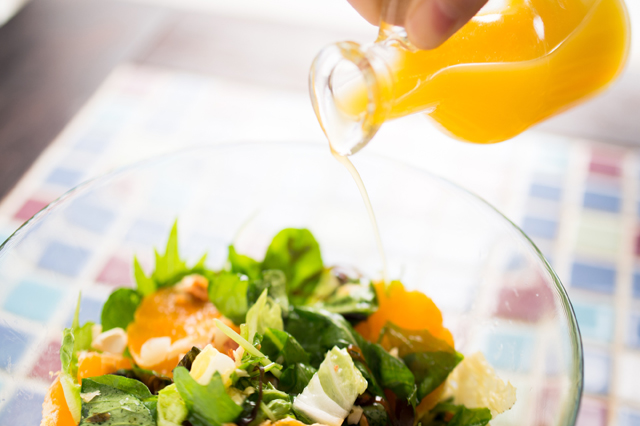 ▲Niihime fruit juice dressing mikan salad
Niihime's juice was used for vegetable salad.
Niihime is said to be a new kind of citrus fruit that was born by natural mating of Yamato Tachibana and Citrus Unshiu, which was discovered accidentally in Atashika-cho, Kumano City.
We talked with Mr. Imanishi of Kumano City Furusato Promotion Public Corporation (hereinafter referred to as "public corporation") who works on Niihime's fruit juice and so on. What is the taste of Niihime?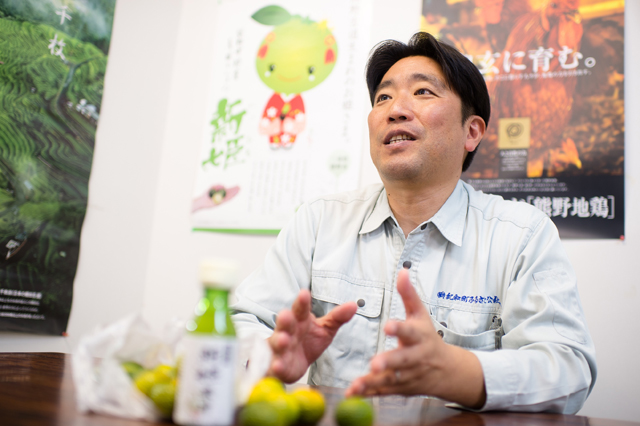 Mr. Imanishi:There is a clean acidity and a reasonable bitterness because it is squeezed with peel, so it has a milder acidity and a better smell than the same citrus Sudachi.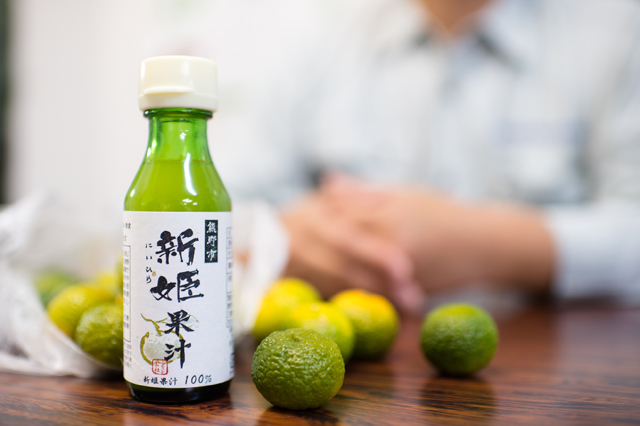 Niihime juice has a variety of ways to enjoy it, such as putting it on grilled fish and yakiniku a little or dressing it.

In Kumano City, the aging of the population has made progress and abandoned land has become a regional issue, but Niihime is also grown in such fields, and by providing seedlings to the producers from the city and the city is working on to revitalize the primary industry and industrialize.

Mr. Imanishi:The spread of Niihime will lead to the development of the area, albeit only a little.

Mr. Imanishi guided me to the Niihime processing plant.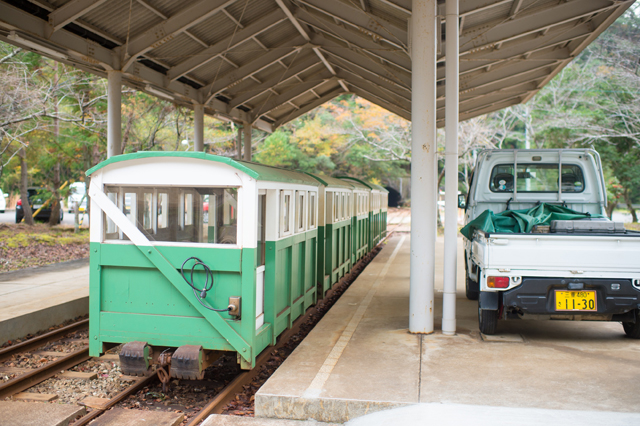 There is a processing site near the station of the trolley train which runs to Yunoguchi Onsen.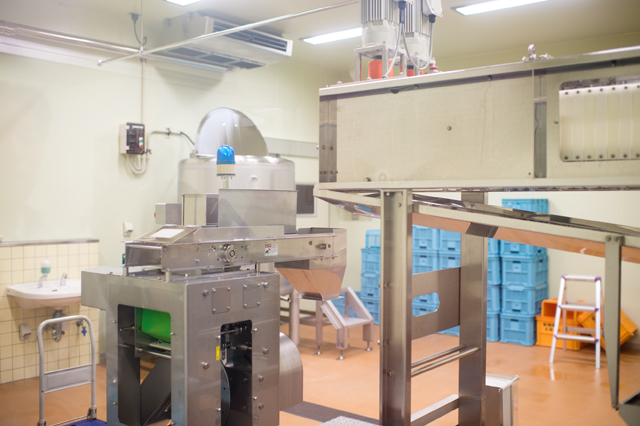 Niihime is made on the production line of the integrated production system from washing work.

Mr. Imanishi:I would like to somehow manage it as one of the regional industries.

Niihime is also attracting attention as it collaborates with major supermarkets and cake fairs taking advantage of the G7 Ise Shima Summit.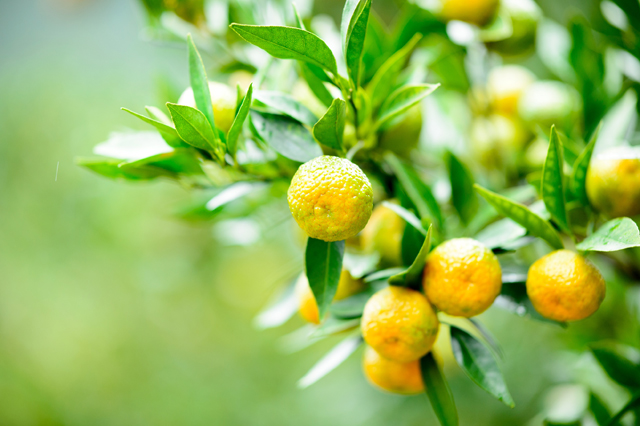 The Niihime Cinderella Story, which may change the area, is just beginning.

Niihime fruit juice is sold at Kumano City Furusato Promotion Corporation's Online store, Higashi Kishu area Road Station, Mie Terrace (Tokyo, Nihonbashi), etc.
---
General foundation Kumano City Furusato Promotion Corporation
Itaya 78, Kiwa-cho, Kumano City, Mie Prefecture
Tel 0597-97-0640
HP http://www.kumano-furusato.com
Online store http://www.kumano-furusato.com/shop/niihime.html
---
———Secret of material ③「Easy to eat, stylish dried fish」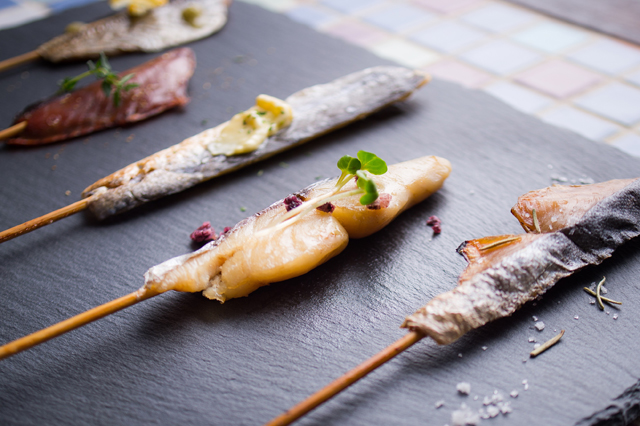 ▲Boneless spit dried fish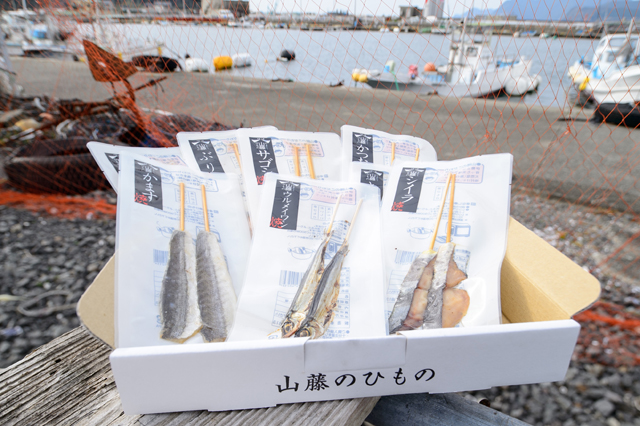 How did the spit dried fish, which developed in Minami Ise-cho and now sold in urban department stores and JAL's new JAPAN PROJECT, be made?

We talked with Mr. Yamamoto, president of the seller who developed spit dried fish.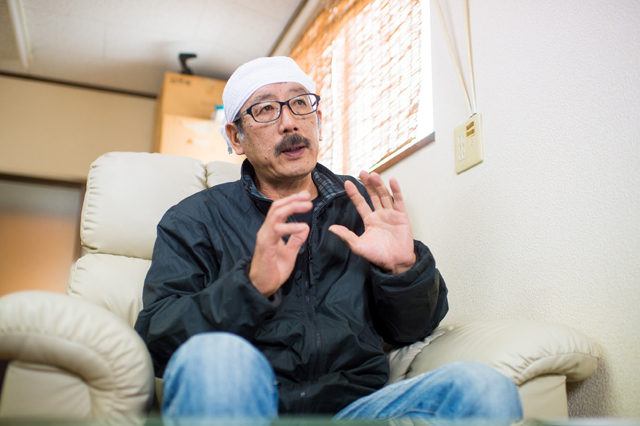 President Yamamoto:About six years ago, it was the beginning that we developed as menu of school lunch.

Mr. Yamamoto previously participated in the academy to produce products for sale in the prefecture, and was initially developing dried fish chazuke, but while listening to the advice of an expert teacher, he thought "After all what I want to make is dried fish." and keep the trial and error in consideration of the fact that the dried fish will be avoided.
He received a request for delivery of school lunch fish before joining the academy, and he was asked every time to remove bones from a dietitian. So, before he developed a spit dried fish, he had the technology to remove bones.
Mr. Yamamoto continued that the primary and secondary school lunch fish provided by Yamato had little left over.

President Yamamoto:Customers often say that spit dried fish is "convenient".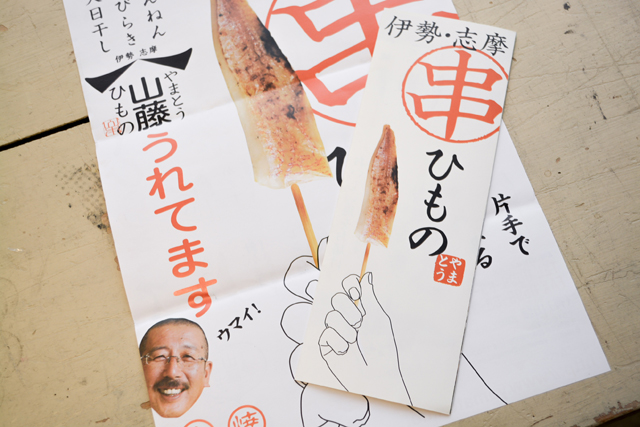 Even so, the design of the material is stylish. Yamatou's logo has a whisker motif, which is the trademark of the president.

There are two types of spit dried fish: frozen and grilled which is can be eaten as it is.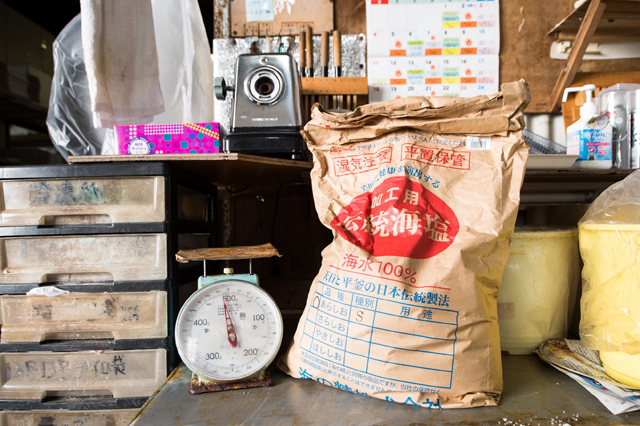 Carefully opened by hand one by one and remove the bones. Spit dried fish uses Izu Oshima's traditional sea salt (sea spirit), and it is mainly sun-dried and slowly dried for a longer time than other companies, soaking the taste into the body. Then, after putting a skewer, grilled type is hand-baked at a processing site and then placed in a vacuum pack to perform heat treatment.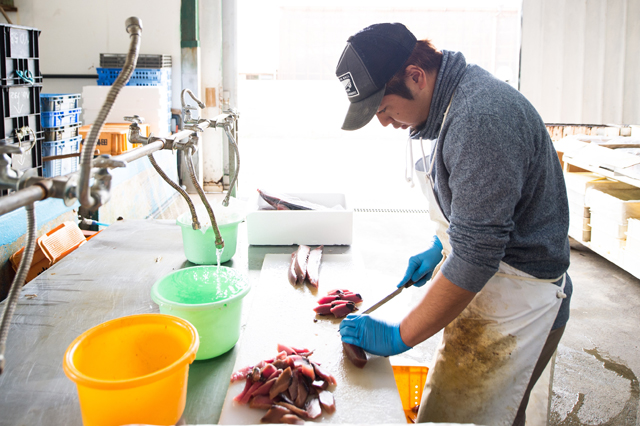 As for spit dried fish, President Yamamoto and his son are mainly in charge, and it is said that the production of at most 1,000 bags a day is the limit.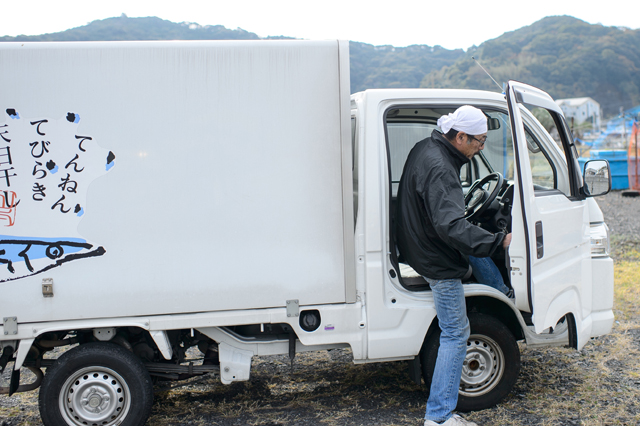 I heard that Yamatou also produces other dried fishes, and I was guided to the place where the processing site of the dried bonito section before.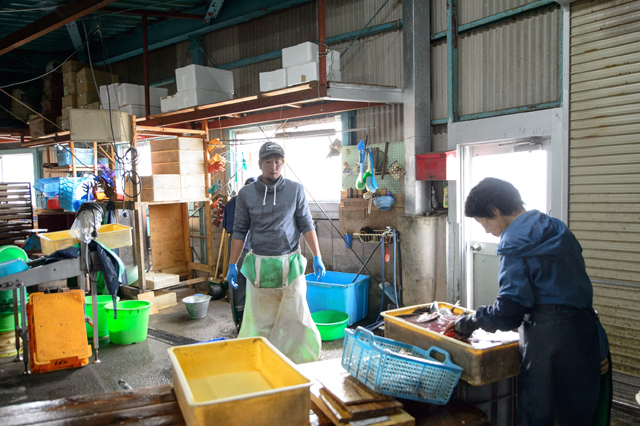 The processing plant began operating at around 8 am with six staff members and processed about 1,000 fish a day into dried fish for breakfast at the Japanese-style hotel.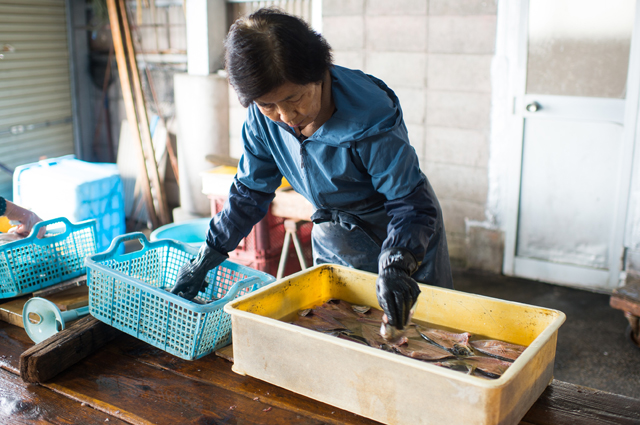 President Yamamoto's mother:In the past, we go to the Ise Shima Japanese-style hotels for sales one by one. Hands are cold in winter. It is cold here. I will brew some coffee for you.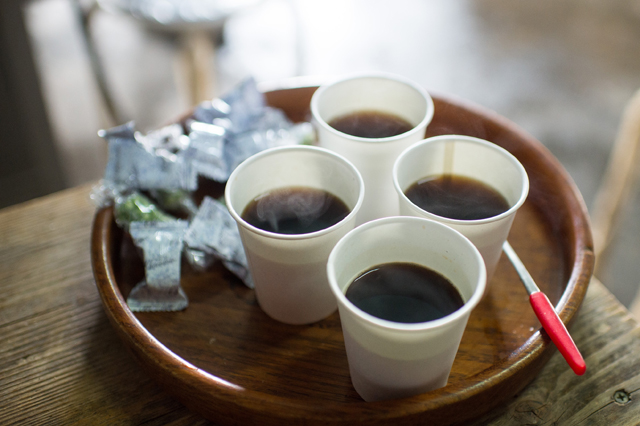 I thought while having coffee.
You probably don't realize when just looking at dried fish, but here they are making innovation in time.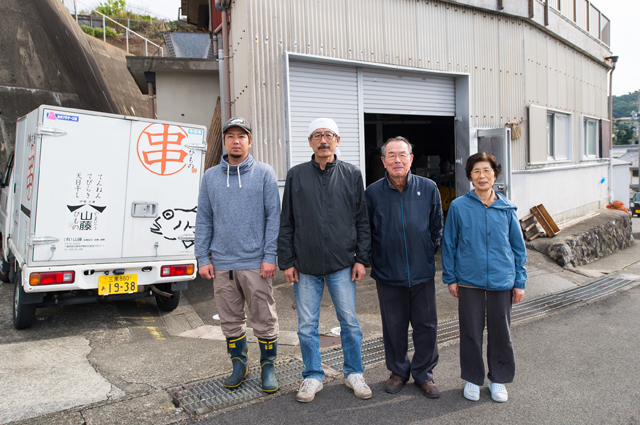 ▲Family Mr. Yamamoto making dried fish in the third generation
The number of dried bonito shops that used to be in the area is now decreasing dramatically. In anticipation of that, it turned to a seafood processing shop, focusing on breakfast for Japanese-style hotels. And modern times where convenience and design are required. The current president who responded to the changes of the times with spit dried fish.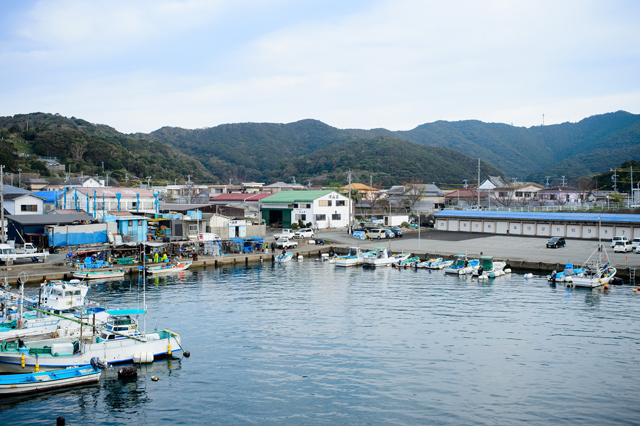 In Mie Prefecture, which has two oceans - Ise Bay and Kumano Pass, various fish species are landed. And in the spit dried fish using fish from Mie prefecture, you can enjoy the dried fish of various fish species.

spit dried fish are sold on Yamatou website, JAL shopping website, Mie Terrace (Tokyo, Nihonbashi) and so on.
---
Limited company Yamatou
Tasoura 3907-1, Minami Ise-cho, Watarai-gun, Mie Prefecture
Tel 0599-69-3489
HP http://www.yamatou.net
---
———Beautiful!Cuisine and Refrigerator?
I also want to use these ingredients. I was visited her house in order to learn the food that triggered me.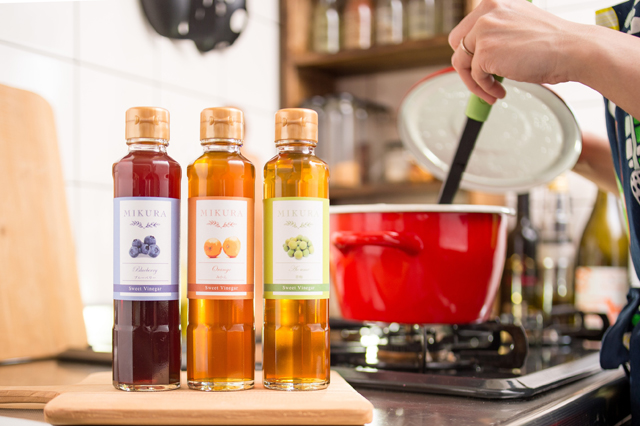 Friend who finishes hand-made dishes with a familiar hand.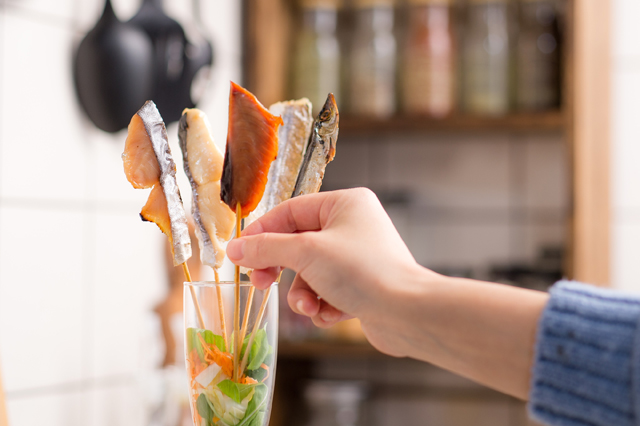 Friend:You can eat the grilled type of spit dried fish as it is. It takes a little more time, so try it first.

Look at friend while eating spit dried fish, and the finished photogenic hand-cooked dishes.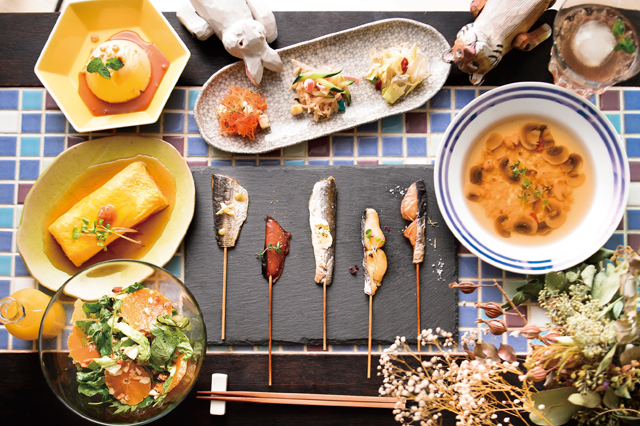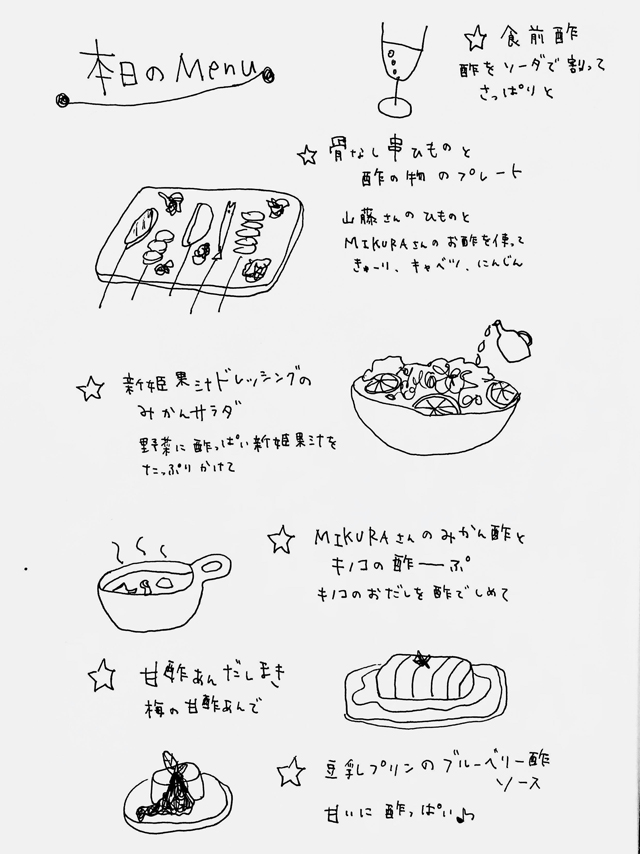 On the way back while feeling a light jealousy to the girly friend. I have deeply carved in my heart.
"I am going to improve feminine traits." Like her, I also like to enjoy fashionable table coordination with selected ingredients.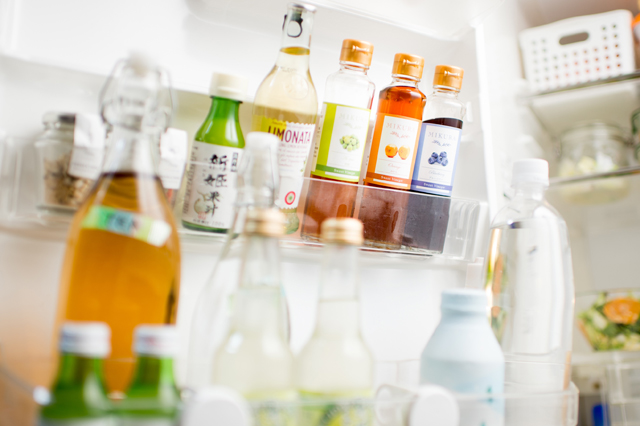 ▲Beautiful!Transform into my refrigerator!
The seasoning bottle used for cooking showed not only the food but also the refrigerator.
As for the hand cooking skill, I would like to improve from tomorrow, and I would like to have a quick drink with a spit dried fish. I fell asleep with a hand of dried fish, Soak in the afterglow of the beautiful natural scenery that I visited in the interview.
---
(Coverage Date : November 26th, 28th 2018)
Planning and Editing:Living and Traveling in Mie WEB Magazine OTONAMIE Operation Headquarters
Coverage:Miki Fukuda(Vice Representative of OTONAMIE)
Mie Selection HP http://www.pref.mie.lg.jp/CHISANM/HP/mieselection/index.htm