Fishing villages in Mie and Shikoku have similar accents. A bonito pilgrimage, a culinary journey.
———"You know, the Kihoku and Shikoku accents are kinda similar."
I heard this while talking with an acquaintance who lives in Kihoku Village in Kitamuro Gun, Mie Prefecture. I love colloquialisms and accents. From the warmth of their words, one can catch a glimpse of the scenery of the bonito rich Kihoku village.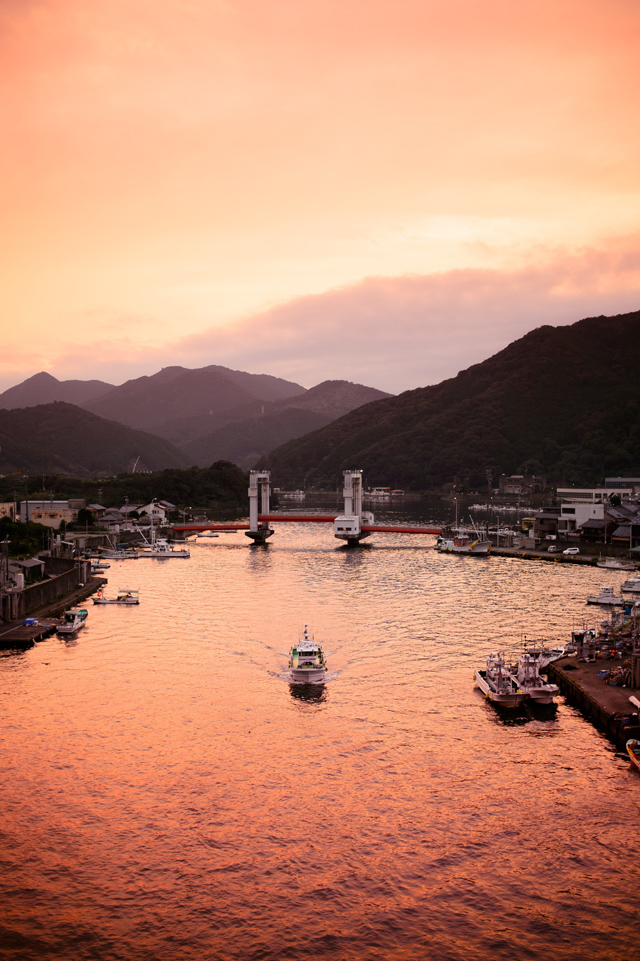 "The accents are similar because, through the pursuit of bonito, there was a lot of exchange between the fishermen of Kihoku village and fishermen from Shikoku." my acquaintance says. In this modern age of social networks and high speed communication fatigue, I find this idea nostalgic.
———Recalling the age of sailing ships
I consult with Mr. Fujitani from the Department of Research and Information Resources at the Mie Prefectural Museum of History.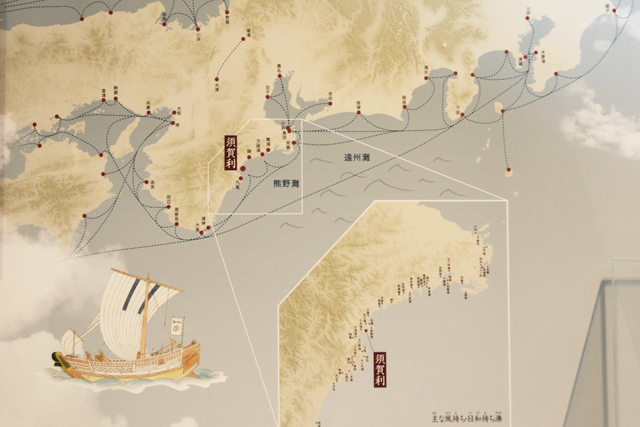 Whether or not there was exchange between the bonito fishermen is unclear, but East Kishu was an important point of exchange between eastern and western Japan in the Edo period, with many different types of shipping crossing paths, I am told. Perhaps ships from East Kishu, where Kihoku village is located, and ships from Shikoku encountered each other, I muse.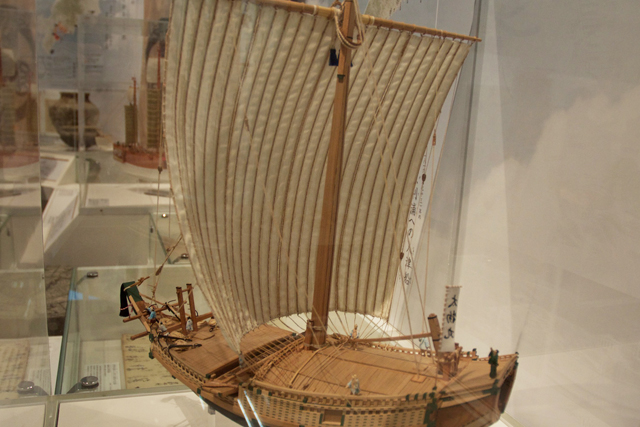 Also, because the crenellated Rius coastline of East Kishu and the Shima region is rich with natural ports and harbors, ships often sheltered there waiting for favorable winds or a break in the weather. Ships from western Japan carrying goods up to Edo (Tokyo) frequently stopped in this area as well, I am told. Therefore, it's my guess that the local fishermen frequently interacted with these visiting ships. One can imagine their accents becoming similar.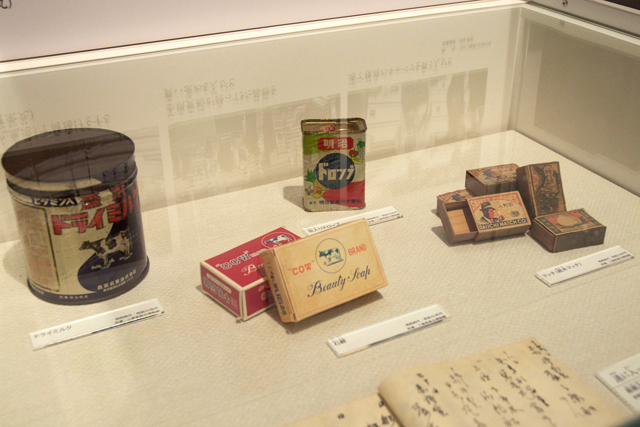 Furthermore, until about Showa 30 (1955), the Asuka shipping line linked Ise Bay and the Kumano-Nada area. I try to picture what it was like then. From far across the sea, eagerly awaited goods arrive by ship. What excitement and anticipation there must have been! For fishing villages in those days, the sea was a substitute for highways and railroads.

In recalling that bygone time, I yearn to feel the breeze in a fishing village. Well, actually, after all that talk of bonito, my belly wants to find some delicious bonito. I turn my steps toward Kihoku village, an hour by car from the museum in Tsu.
———Soul Food, Namabush
How is bonito eaten in fishing villages? In East Kishu, where Kihoku is located, namabushi (steamed bonito fillets) is soul food, I had heard.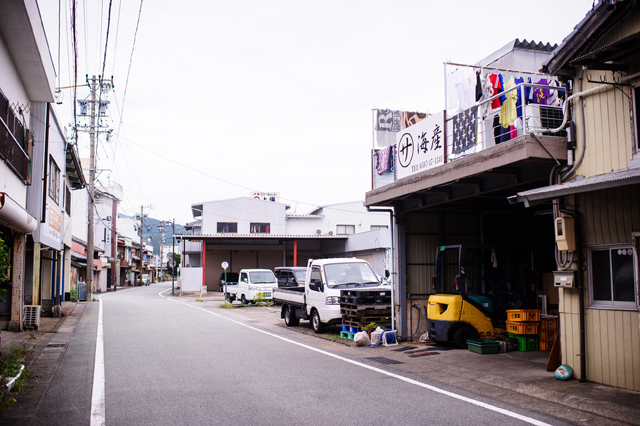 I go to visit Mr. Waki, a third generation fishmonger, at his shop. When I arrive, he has a customer.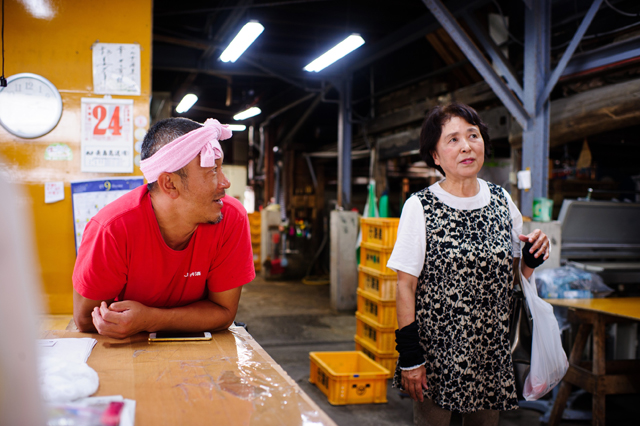 "Is your mother around? I want some namabushi." she says.

"Nah, she ain't here right now, but you come at a good time ! This guy's writing an article about namabushi ." Waki replies.

The customer, originally from Kihoku, now lives in Tsu, Mie. I ask her how she likes her namabushi .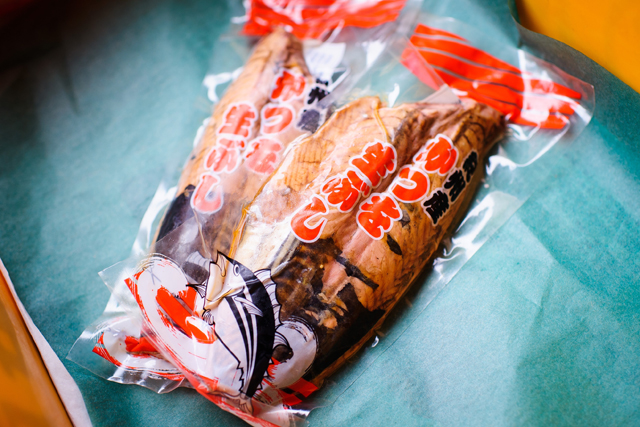 "Cut the namabushi into 3mm slices and place the slices atop a bowl of piping hot rice. Add some grated cucumber or ginger, splash on a little soy sauce, and enjoy!" she tells me.

It sounds delicious just thinking about it!

Namabushi can also be used for making miso soup broth, or just eaten as is.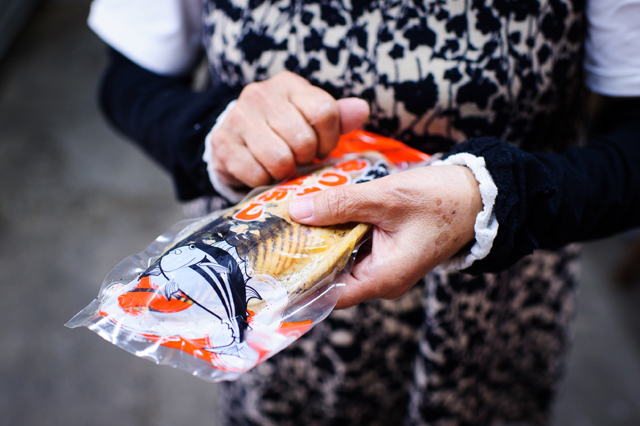 "I've eaten this stuff since I was a child, and even now I get cravings for it. I used to buy freshly steamed, still warm namabushi from this shop.

It's the taste of home, soul food. That hometown flavor takes me back to the days when I lived here." she says.

"I'm headed over to the bonito auction now. Wanna come?" asks Mr. Waki.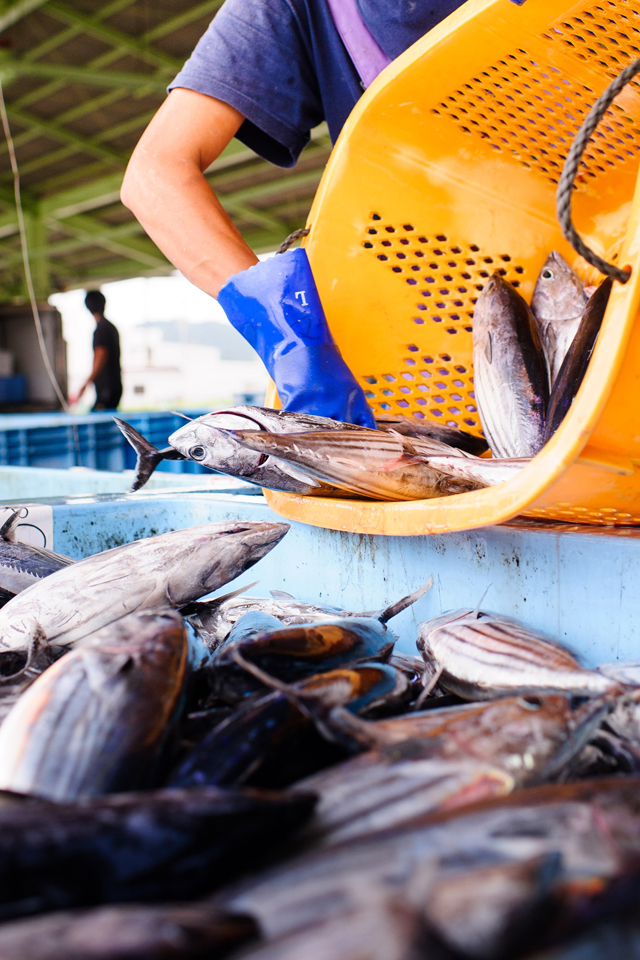 One after another small bonito are hauled out of the water. They were caught with fishing rods, it seems.
———Big Papa "has real bonito flavor"
Strolling around the port, I bump into a certain Mama.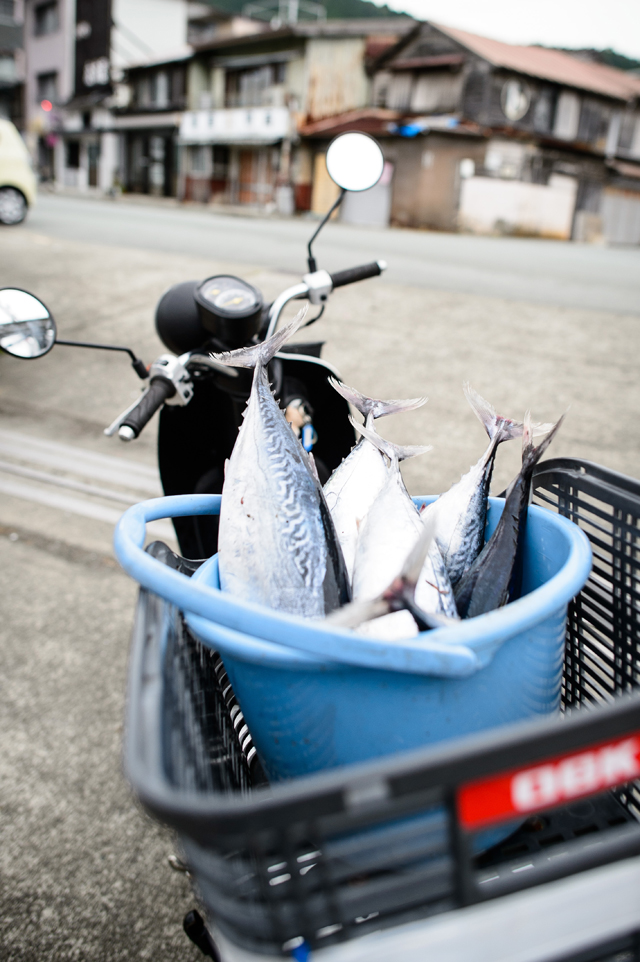 She is carrying a blue bucket full of bonito. It's a sight you won't see in the big city. How does she recommend enjoying bonito?

"I like Ochazuke (green tea and rice porridge), so I grill them and use some for ochazuke and some for obento (lunchboxes). " she tells me.

In one of the nearby boats is her husband, a fisherman. He's just back from fishing for bonito. Before I know it, Big Papa's "Rod fishing for bonito class" is in session.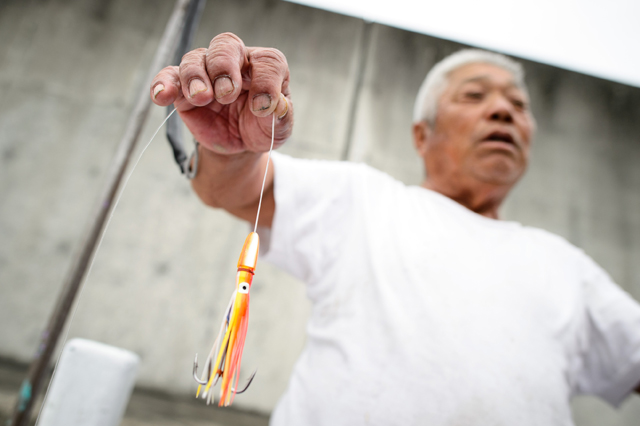 "First, you find where the fish are. While it's still dark, load up some lures and take the boat out."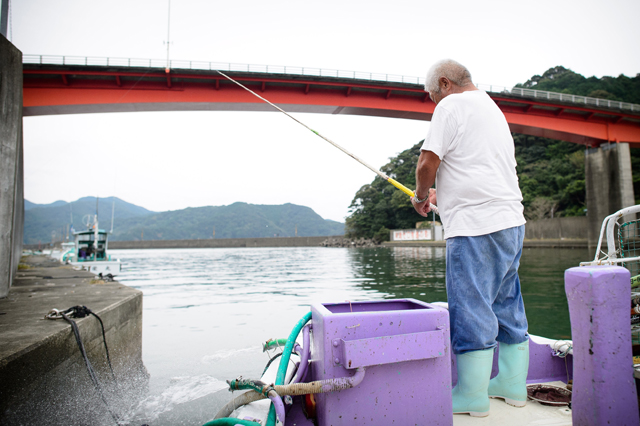 "When you find your spot, toss some sardines into the water. Use a big hose to pump sea water in on top of them. Bonito will mistake this for a big school of sardines and move in. When they come to feed you can catch them with a simple rod, line, and hook."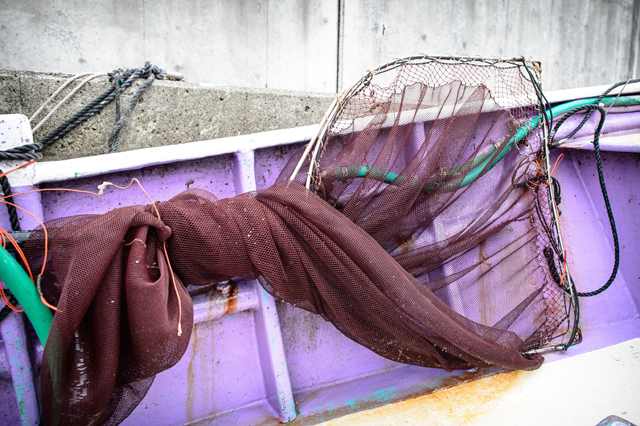 At sea, when the sardines which bonito follow come together in a massive group, the schools of large bonito that come to feed on them can be scooped up in nets, says Big Papa.

I see. I am impressed by his fishing knowledge.

By the way Big Papa, what is the best season for bonito?

"When the cherry trees are blooming. Early bonito are deeelicious. They have real bonito flavor." says Big Papa.

Recently, the bonito fishing has been very good, and with his booming voice and big smile, Big Papa is very happy. Mama and Big Papa make quite an impressive couple.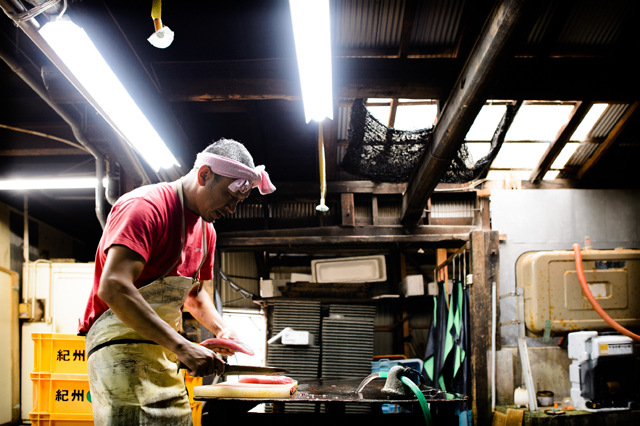 On my way to my next reporting location, I pass by the fishmonger I visited earlier, Mr. Waki. He is busy cleaning and filleting bonito.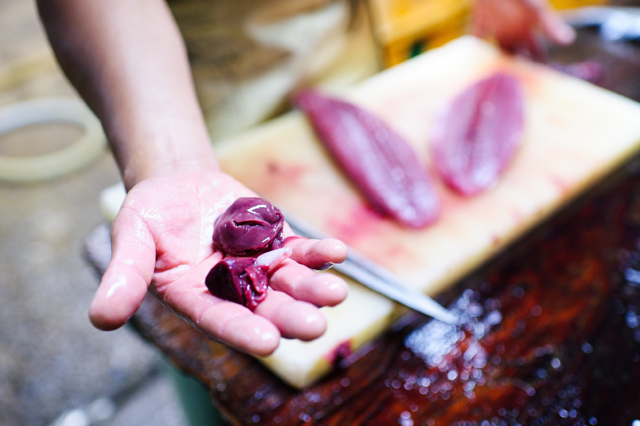 "This is the liver. It is rich and savory!" he tells me.

Liver, head, even the bones of the bonito are boiled for broth. It is delicious, I am told. The other organs are cured in salt. No part of the fish is wasted.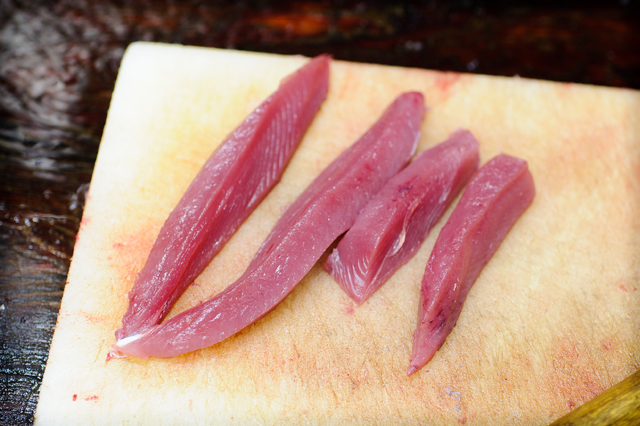 The fillets he is cutting were a live fish this morning. They will accompany tonight's sake. I couldn't be more jealous.
———Stone Roasted Local Seafood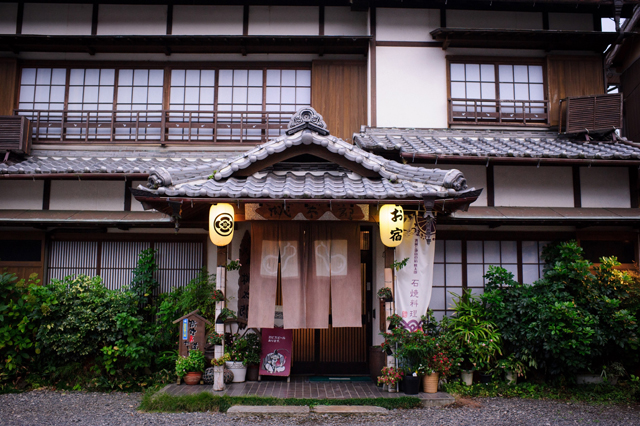 East Kishu, where Kihoku is located, is home to a great many varieties of fish, such as Ise lobster and yellowtail. There is an inn where one may partake of this local seafood roasted over hot stones.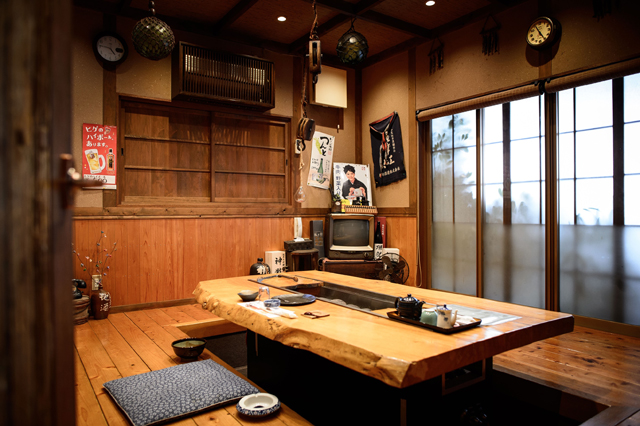 The space has a very retro feel to it.

"We tried to recreate the atmosphere of an ama diver's cottage." says second generation innkeeper Mr. Inauchi.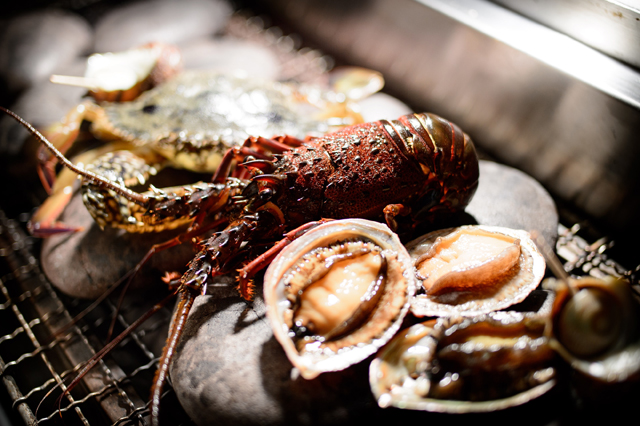 Roasting these delicacies over stones ensures that they cook evenly and thoroughly for the best flavor, so they say.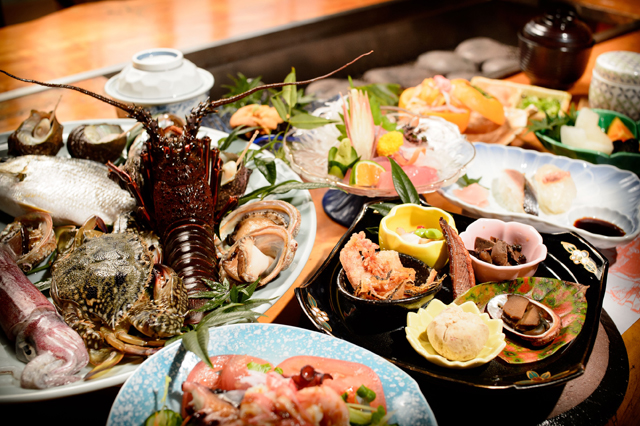 On top of that, there's just so much of it! I am surprised to learn all the dishes are from Mie Prefecture. From this meal I get a sense Mr. Inauchi's pride of place and his artisanal prowess.
———"Fish are precious, I think"
As the sun begins to set, I receive word that a certain fisherman is returning to port. I hurry out to speak with him.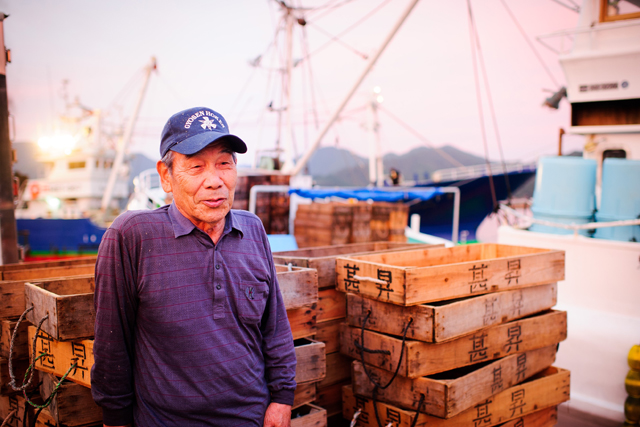 "I am now 82 years and 9 months old."
Mr. Ishikura says as he greets me with a smile. His family has fished these waters since the Meiji period, when they came to Kihoku from neighboring Wakayama Prefecture. There is also a branch of the Ishikura family in Shikoku, and even now the families manage to get together once a year.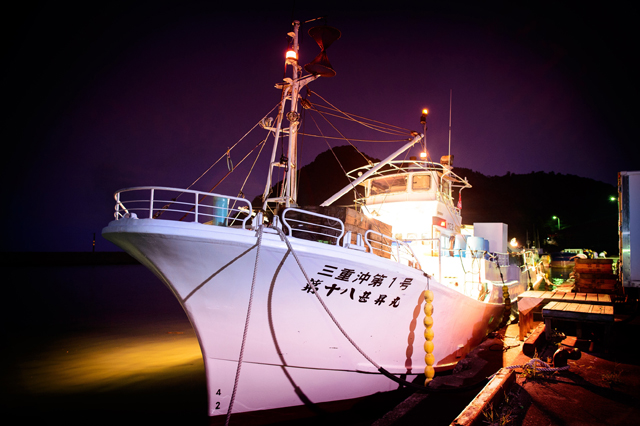 Mr. Ishikura's 19 ton boat
In 65 years of fishing, was there ever much danger?

In the past, Mr. Ishikura captained a 39 ton boat and, with a crew of 50 or 60 fishermen, trawled for tuna and bonito, among other things. There were no weather forecasts in those days, so he listened to reports on the radio and made his own weather maps. There were unforseen storms and typhoons, and he faced death three different times, he tells me.

Nevertheless, he continued to fish. What is the allure?

"Being out on the water is the best. If you stay at home you've got to do stuff around the house!"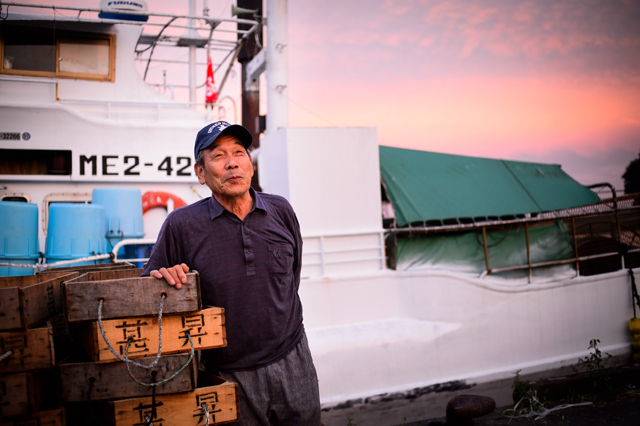 His smile returns as he says this. Seeing this smile, I have to ask about the future of the local fishing industry. Now, Mr. Ishikura goes out to fish accompanied by his grandson.

"The number of fishermen is decreasing, but if our local young folks stay here and can make a good living by fishing, this will become their sea. There are fish. I think they can be successful."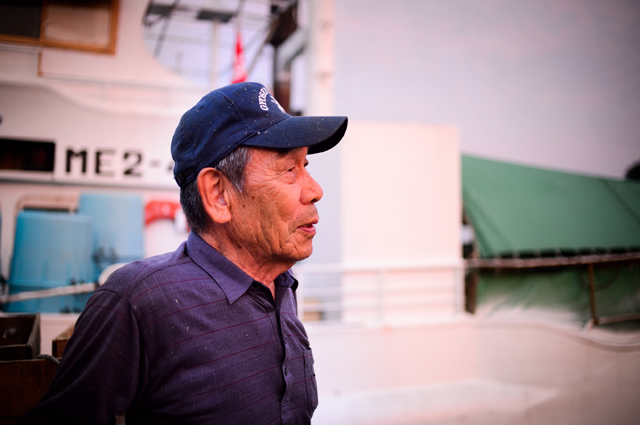 The veteran fisherman is looking to the future.

"Many traditional celebration foods are fish. Also, we can eat fish every day. Fish are precious, I think."

" Fish are precious." For 65 years, this man of the sea has humbly lived by these words. Feeling their weight, our conversation halts, and we stand in silence. Without breaking this silence, I turn my gaze to the port, where local families could be seen night fishing.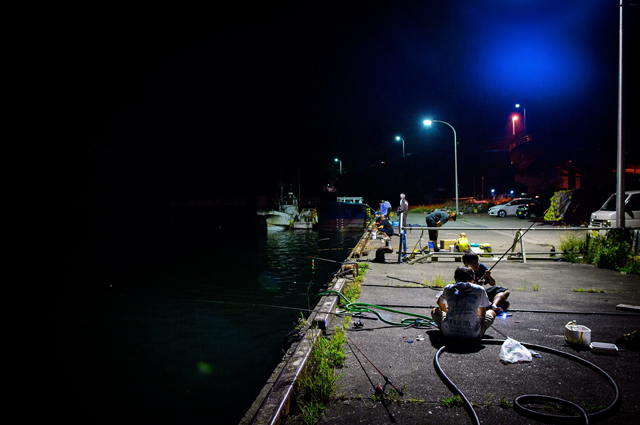 I went to make this report on a Sunday. Going fishing on a Sunday night is apparently a perfectly normal thing to do in Kihoku village.

It's not that fish are a feature of village life, it is the fish that make life in a fishing village possible.

I recall the words of Mama, whom I met in the afternoon.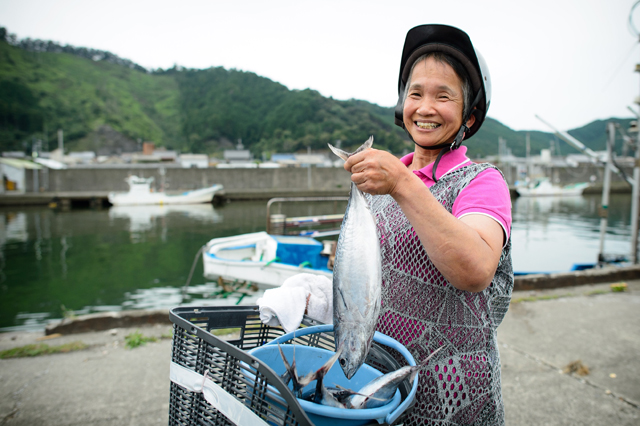 "All the folks around here are having bonito for dinner tonight!"
---
(September 24, 2017)
Produced for Web Magazine OTONAMIE by Yusuke Murayama.
Prepared with the cooperation of

Mie Prefectural Museum of History
Mie Ken Tsu Shi Isshenden Koudzubeta 3060
Tel 059-228-2283
HP http://www.bunka.pref.mie.lg.jp/MieMu/

Marusa Suisan
Mie Ken Kitamuro Gun Kihoku Cho Nagashima 1189-146
Tel 0597-47-1341

Minshuku Momotaro
Mie Ken Kitamuro Gun Kihoku Cho Kii Nagashima Ku Furusato 1065
Tel 0597-49-3217
HP http://owase.com/momotaro/

Jinsho Corporation
Mie Ken Kitamuro Gun Kihoku Cho Nagashima 1172
Tel 0597-46-3222
HP http://www.jinshomaru.com