Nabari, hidden fortress of the Ninja. In this place, one person is building a bridge to the future with food.
———They're sweet potatoes, you see.
Holding a sweet potato in one hand, agricultural product specialist Yukiko Sugioka talks happily. She has just come out of a meeting with local farmers about starting to use locally grown sweet potatoes to make a dried potato product called hoshiimo.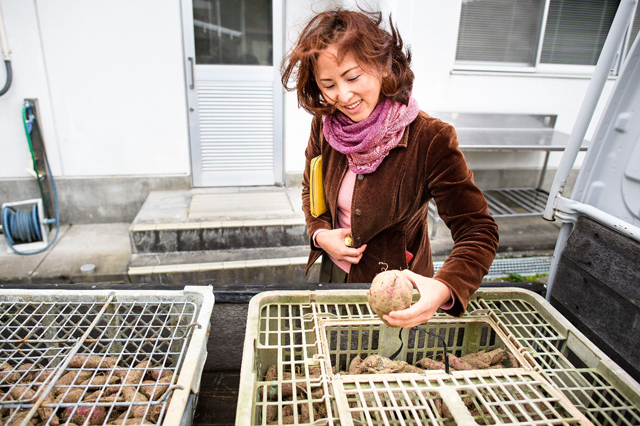 Yukiko Sugioka is 44 years old.
She was born in Osaka, raised in Nabari, graduated from an American university, went to work in Tokyo, got married, and moved back to her hometown of Nabari in 2006 to raise her children.

"Life is really pleasant here. Folks talk about 'Nabari Time', you know? We like how time seems to run slower here" she laughs.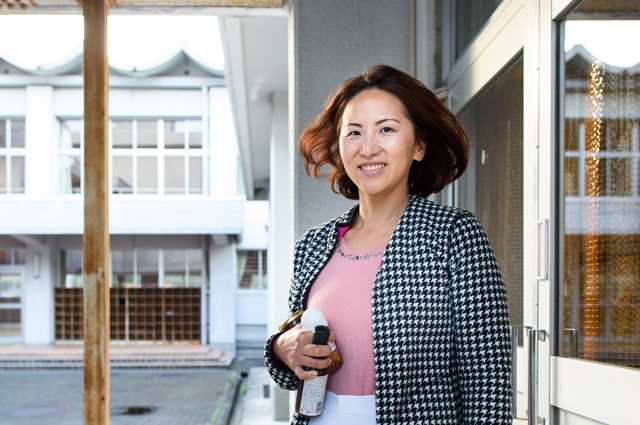 ———Nabari, the Hidden Fortress
Situated in western Mie Prefecture, Nabari is a town of two faces. One face is that of a bedroom community for people commuting to nearby Osaka and Nara for work. With the rich natural beauty of the 44 Waterfalls of Akame and the surrounding mountains, Nabari's other face is that of the hidden home of the ninja.
Interestingly, the kanji for "hidden" can also read as "nabari", which is why the city has that name.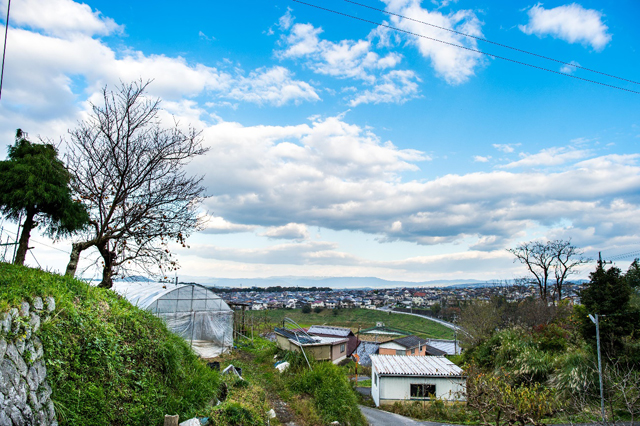 "Was it always such a wonderful town?"
Ms. Sugioka talks about her return to Nabari.
After working in a local company for a while, in 2014 the city of Nabari formed the Nabari City Creative Development Council, where Ms. Sugioka worked for the past 3 years.

"When I was living in America and Tokyo, I was painfully ignorant of my own hometown. Someone would ask me what my hometown was like, or what our local specialties were, and I couldn't answer. When I came back to Nabari I realized that the things I took for granted were really what made this place special. The environment, the food! Our rice, our vegetables and our meat really are delicacies!"

With a desire to promote the appeal of Nabari and contribute to the local community, in January of 2017, Ms. Sugioka and 4 former members of the development council formed an agricultural product processing company. Their company is based out of the kitchen of the former Takinohara elementary school, which was decommissioned in 2014.
———An old school becomes a food processing factory
I ask Ms. Sugioka about her food processing factory.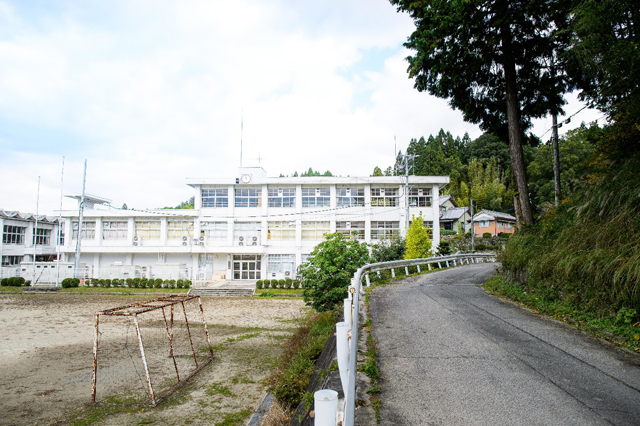 Turn away from the main road lined with large factories and a pastoral landscape spreads out before you. Climb a small hill and the old elementary school comes into view.
"Is this really a food processing factory?" I wonder with growing unease, until I see the sign.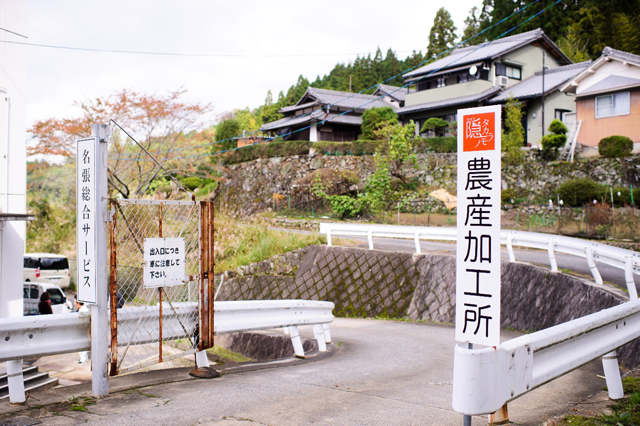 At the base of the hill is the agricultural product processing factory, situated in the school lunch kitchen of the old elementary school.

Agricultural product processing, development of new products, direct sales and marketing all take place here. Products are cut, dried, powdered, pulped and packaged, thanks to the knowhow Ms. Sugioka and the others gained in their time on the development council.
———Spreading through personal connections
I stay with Ms. Sugioka for the day. The area around the factory, Takinohara, is blessed with bountiful nature and a long tradition of farming.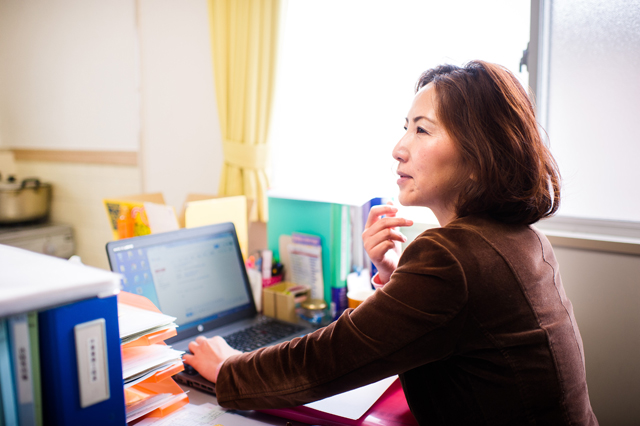 "An elementary school is a place where many people gather, right? I thought it would be great if people would once again gather here" she tells me as she prepares for a meeting.
"Successful community life depends on many people coming together and sharing their thoughts."

True to these words, local farmers carrying freshly harvested sweet potatoes begin to arrive for the meeting.
The population of Takinohara is aging, and after many discussions on how to revitalize the community, the "Hoshiimo Project" was started. Jam, flour, and many other products were discussed, but the local folks seemed particularly excited by the idea of hoshiimo, a nostalgic snack food made from dried sweet potato.
"If we're going to make something, it's better if our product is one the local folks are excited about" says Ms. Sugioka.

This autumn's harvest of sweet potatoes.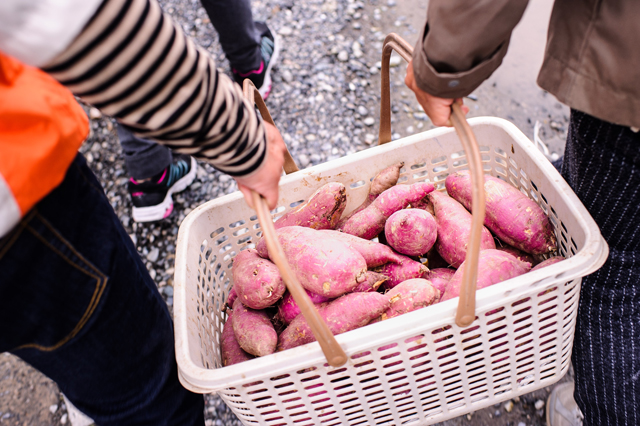 Building on the progress so far, today's meeting is about packaging, cost, and distribution, and some sampling of the product as well.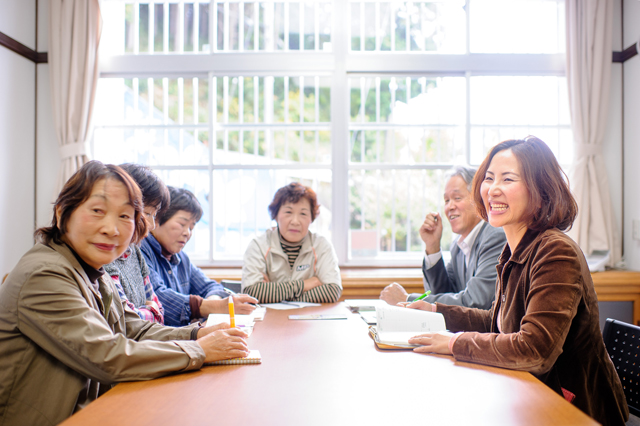 "Before, they'd just go to waste. We're happy if they can be of any use!"
"Coming together like this, Takinohara is trying its best! It's a great feeling to be working together."
These are just some of the comments. It's not so much a meeting as a discussion full of smiles and laughter.

Everyone helps carry the sweet potatoes into the factory.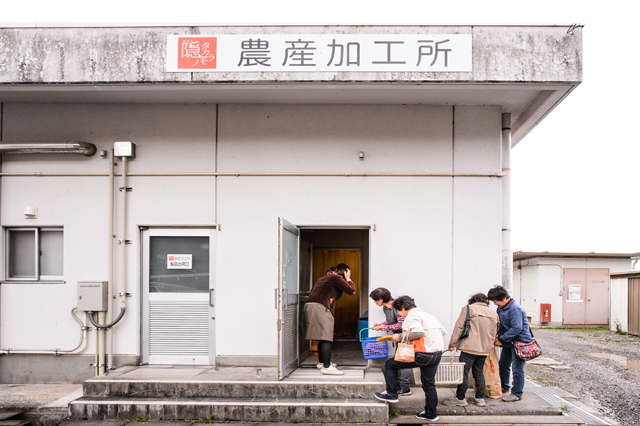 In the six months since the company was formed, it has shipped 20 different products. If you include prepared foods supplied to restaurants, that makes the number substantially higher.

"Processing technology allows us to keep an eye out for non-conforming product. If we let the farmers do all the processing though, that becomes a difficult problem, so we help them when necessary. We'll discuss any problems they may have. I'm always thinking of ways to overcome difficulties." says Ms. Sugioka.
———Packaging and Design
In the afternoon, Ms. Sugioka visits a design company to discuss the packaging for hoshiimo.
She meets with Nabari-born graphic designer Rika Miyama.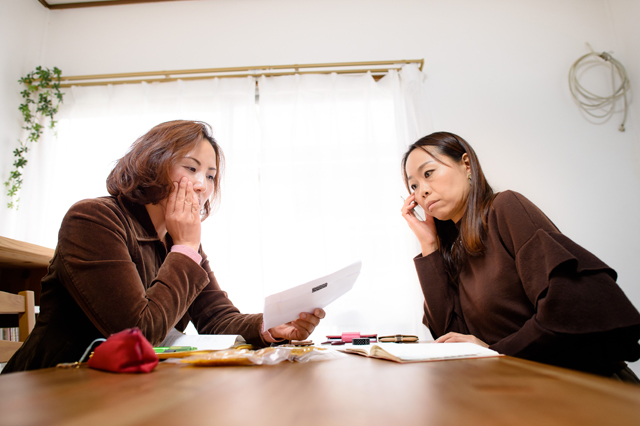 Ms. Miyama maintains the city's information web site, and also works on Nabari promotional materials. She has a strong desire to promote the city through the packaging of its local goods, and thus is a perfect partner for Ms. Sugioka's company.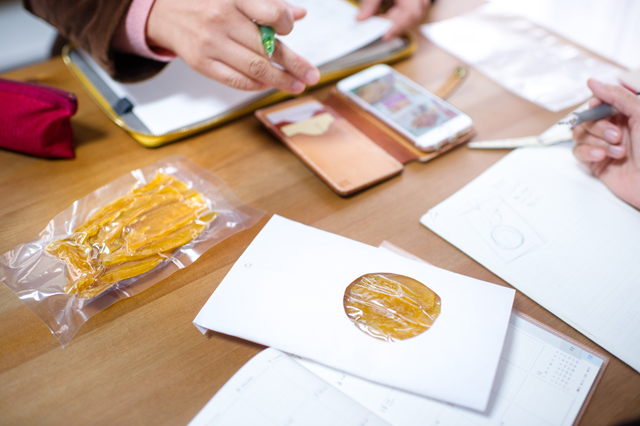 Ms. Sugioka was expecting a simple stick-on label, and is suprised when Ms. Miyama presents a folded paper pack with a die-cut window in it.
"Ah, I see!" says Ms.Sugioka with a smile.

"We can use it for other products as well!"
"They can be mailed just like an envelope."
"What shall we do for a name?"
"How about "A Gift from Takinohara"? Great, isn't it?"

They come up with progressively more daring ideas.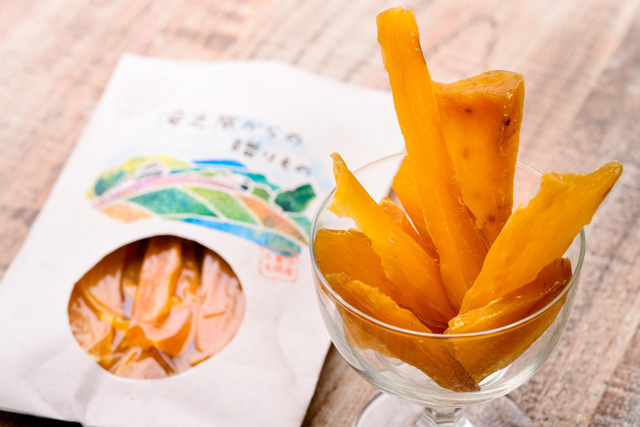 I've been following Ms. Sugioka for half a day, and I'm beginning to feel that the hoshiimo field is pretty lively.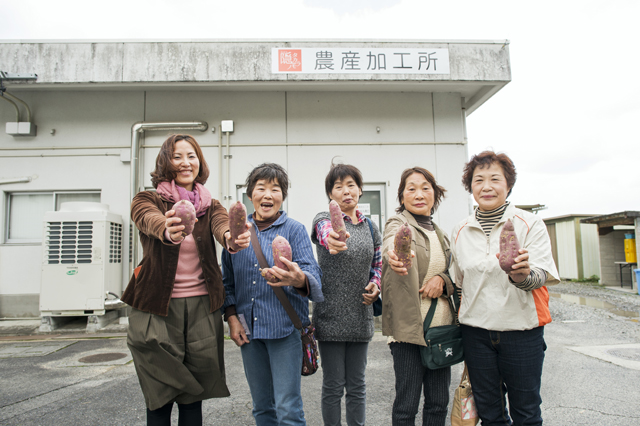 ———The factory that used to be a school lunch kitchen.
To the factory floor, where Ms. Sugioka also works processing foods and developing new products.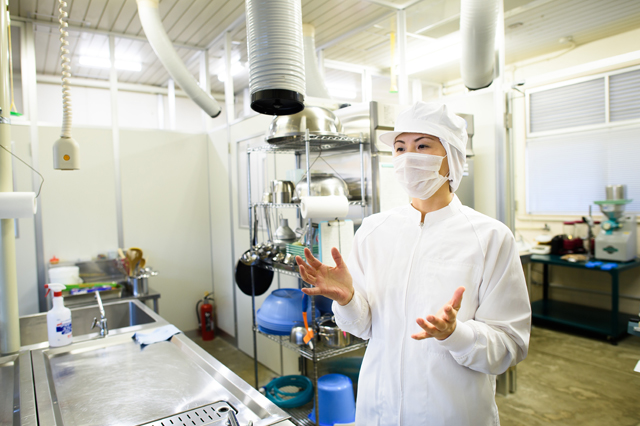 "I do processing trials and small batch jobs. Of course, we have to turn a profit in order to continue. We have to keep producing results."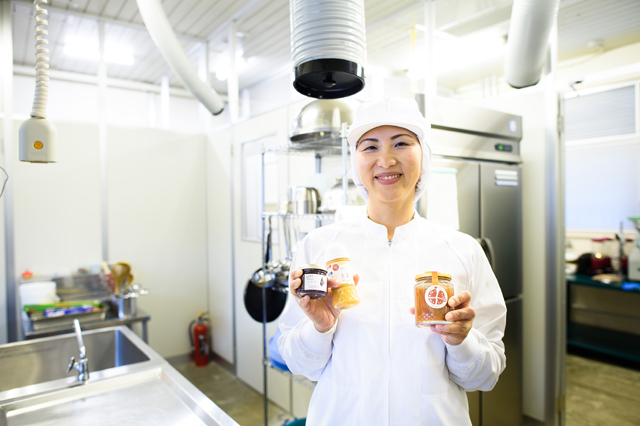 As a working woman and mother, "Products I can feed my children, products I can recommend to women like me, products Nabari can be proud of" are the thoughts that drive her to make new products. Many of her products are made with no additives or coloring.

"There's one more producer I'd like to introduce you to."

Ms. Sugioka tells me of a young person who moved here from the big city. We quickly head out to the fields.
———Fuuko Kitashima grows tomatoes in Umegaoka, Nabari
When she was in university, Ms. Kitashima was surprised by the flavor of the tomatoes grown at the farm where she worked part-time. "I'd like to grow tomatoes like this" she thought, and decided to take up farming. This young farmer moved from Osaka to her grandparents' home in Nabari to raise tomatoes.

"I met Ms. Sugioka when I participated in a seminar run by the development council. With processing, the tomatoes I work so hard to grow won't go to waste, and can reach many people, which makes me very happy!" says Ms. Kitashima.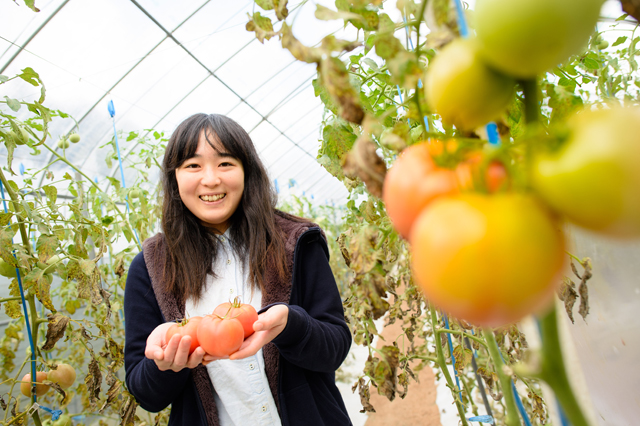 Her tomatoes are raised in local soil and compost, processed locally and sold. As more people become aware of her products, her tomato sales increase.
Food is connected to the land, and that cycle can be seen at work here.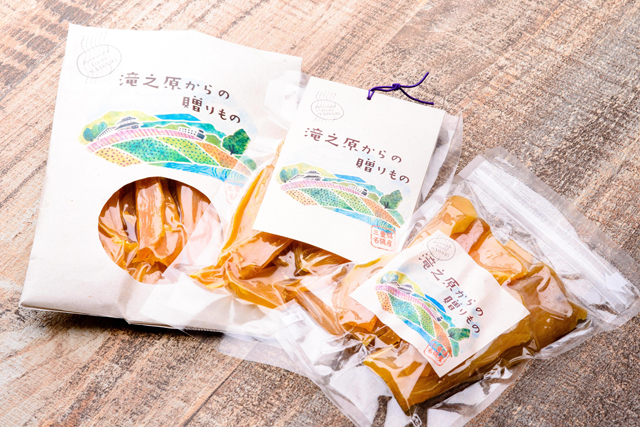 The rich blessings of the mountains.
Just a simple ingredient, leading a hidden existence, but through the magic of processing, hoshiimo has spread its wings, becoming a Nabari treasure that will capture people's imagination.

In this single product many smiling faces can be seen.
———A Postscript
I heard of another interesting case, so I stopped by Nabari City Hall. At the department of natural resources I was greeted by Masayuki Yoshioka.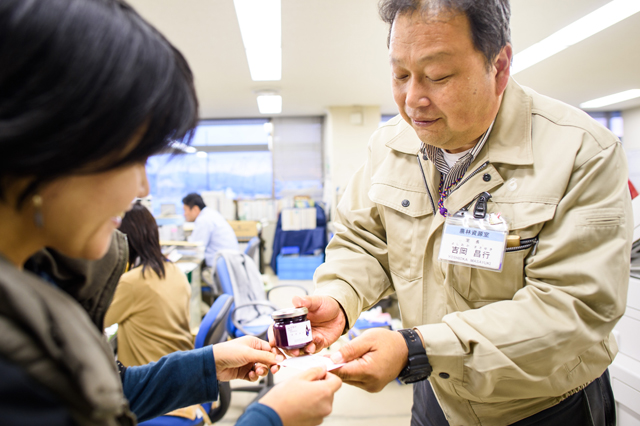 What!? His business card is a jar of jam!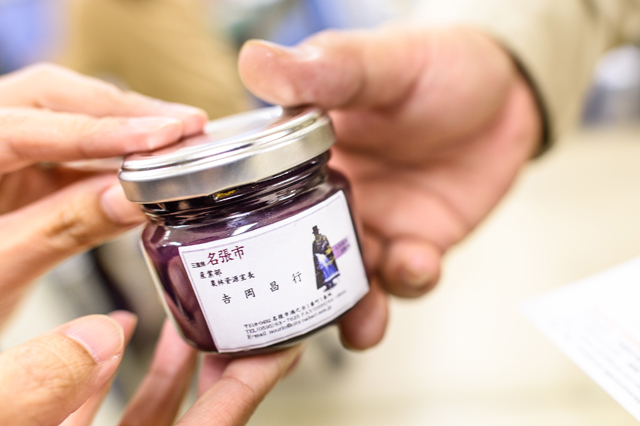 "I had these made up to promote tourism!" says Mr. Yoshioka.
When I use this jam at my table, I am strongly reminded of Mr. Yoshioka, the farmers of Nabari, and the food processor Ms. Sugioka … many smiling faces come floating back to me.
---
October 30, 2017
Web Magazine Otonamie
Reporter: Chiharu Kanzaki (Freelance Writer)
Produced with the cooperation of

Inabari Corporation
Mie Prefecture, Nabari
Takinohara 1050
Nabaritakaramono nousankakoushonai
Tel 0595-41-1505
Facebook https://www.facebook.com/tanoshimifactory/

Mie Prefecture Nabari City Special Products Sourcing Site Nabariichi
https://nabariichi.jp/

Folk, Farms and Food Connection Discover Wonderful Nabari Magazine "Nanowa"
http://nanowa.net/